What are the Different Law Enforcement Careers?
With a variety of law enforcement careers available, it is up to the individual to decide where her interest lies, and at what level she wants to pursue her career. For example, law enforcement careers can be found at the state and at the federal levels, they can deal with local communities or the international community, they can look for petty thieves or dangerous criminals, and they can specialize in any number of fields. Regardless, those people who have law enforcement careers provide protection for everyday citizens and their property.
On the local level, the uniformed police officers are among the most obvious law enforcement examples. They patrol their local jurisdictions, enforce local laws, respond to calls, and complete paperwork. At times, they may be called upon to direct traffic, administer first aid, pursue criminals, testify in court, fill out reports, or investigate a crime. A police officer can work with a specific unit or team, such as the canine unit, the special weapons and tactics (SWAT) team, or the emergency response team. She can also focus her duties on patrolling a public college or university or a public school district.
Law enforcement careers can also be centered on the county level – sheriffs and deputy sheriffs. Sheriffs are often elected and act like police chiefs, but at the county level instead of at the local level. Deputy Sheriffs also work to enforce laws at the county level, and often are used as a security measure at municipal and county courts.
State troopers or state highway patrol officers are individuals who pursue law enforcement careers at the state level. They have statewide jurisdiction and are responsible for enforcing state laws and for assisting local, rural, or under-staffed law enforcement agencies. They, too, may direct traffic, administer first aid, and issue traffic citations. In the United States, only the state of Hawaii does not have a state law enforcement agency.
Another branch of law enforcement careers involve the plainclothes police officers or detectives. Detectives collect facts and evidence for cases that are criminal in nature, interview witnesses, observe suspects, and testify in court. They are sometimes assigned to a particular team for a particular kind of crime, such as the Fraud Unit or the Homicide Unit. Detectives usually work on one case at a time until it is solved or the case no longer has any leads.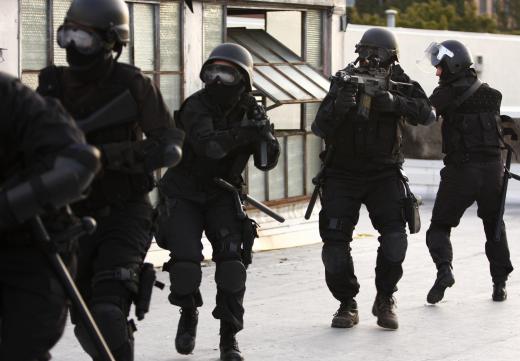 Fish and game wardens are great law enforcement careers for people who appreciate the outdoors. In general, they enforce the laws associated with hunting and fishing. They make sure that poaching is not occurring, conduct search and rescue procedures, and investigate hunting or fishing related accidents.
On the federal level, the Federal Bureau of Investigation (FBI) employs many agents. Law enforcement careers on the federal level involve many different agencies and special units. Generally, a FBI agent enforces the federal laws and deals with white-collar crimes, financial crimes, cyber crimes and crimes involving blackmail, corruption, drug trafficking, kidnapping, and terrorism. Many countries have agencies similar to the FBI, such as the Federal Criminal Police Office in Austria and Germany, the Central Bureau of Investigation in India, and the Judicial Police in France.
Other law enforcement careers on the federal level includes, United States Drug Enforcement Administration agents, United States Marshals and Deputy Marshals, Bureau of Alcohol, Tobacco, Firearms, and Explosives agents, the Bureau of Diplomatic Security special agents, and Department of Homeland Security officers. Each works to uphold federal laws, prevent illegal drugs or firearms from entering the country, and fight against terrorisms. Law enforcement careers can also center on those entering and exiting the country through the work done by patrol agents, customs inspectors, and Federal Air Marshals.
AS FEATURED ON:
AS FEATURED ON:






By: frog-travel

Patrol officers often spend time driving around their beat.

By: Lisa F. Young

Beat cops are the most common type of law enforcement officers the public comes in contact with.

By: Peter Kim

Law enforcement careers include the special weapons and tactics team, or SWAT.

By: HaywireMedia

FBI agents often handle kidnapping cases.

By: Chlorophylle

A police chief is the leader of the police force.

By: Monkey Business

Some law officers pursue a career in drug enforcement.