What are the Different Kinds of Contemporary Fireplace Surrounds?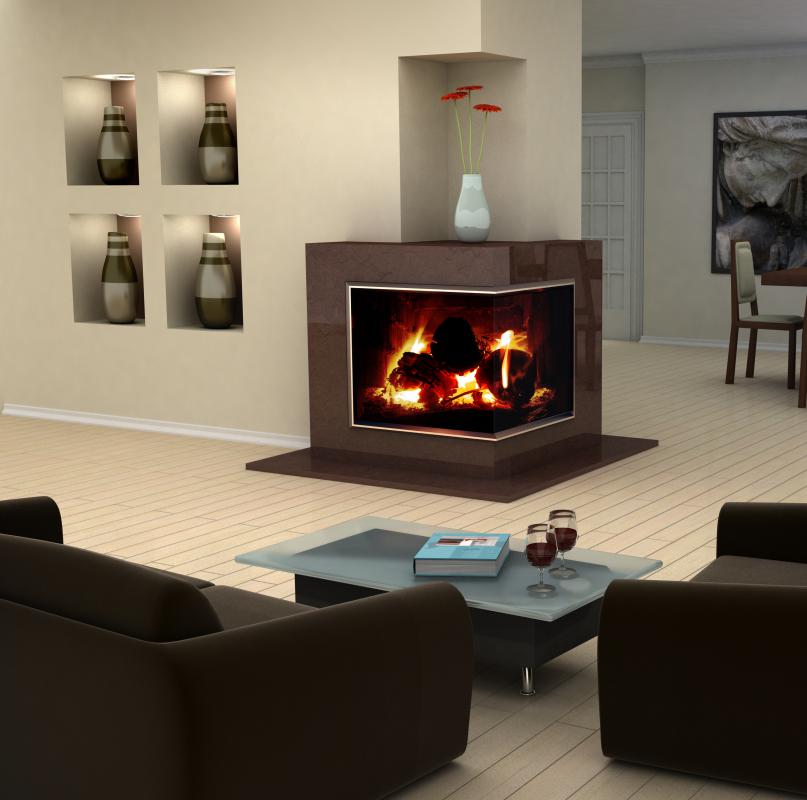 Whether a homeowner is building a new home from the ground up or is remodeling an existing house, there are several types of contemporary fireplace surrounds to choose from. The consumer has plenty of choices in terms of available materials such as limestone, cast iron, and wood. It is also not uncommon for fireplace surrounds to be made from natural stones like granite and marble. In addition to choosing the material to use for the contemporary hearth, the homeowner will also find there are many options in design available to match their desired decor. Many people make it a point to choose designs that are inexpensive and easy to clean and maintain.
Contemporary fireplace surrounds can be made from a variety of materials, and natural and synthetic stone products are among the most popular options. Stones such as limestone, granite, and marble are often used because they offer a unique look regardless of the hearth design due to the natural stone veining. Wood is another material commonly used to accent contemporary decor and is often highly glossed for a sleek, modern appearance. Cast iron may be used as well to create a modern look for a living area of a home. Iron can be cast into almost any design the client may choose, and is well known for its durability.
Design and style are important factors when it comes to contemporary fireplace surrounds. Modern design usually includes fireplace surrounds and other fixtures with clean, simple lines and no added flourishes and curves found in many traditional styled home fixtures. It is not unusual for modern design to focus on abstract compositions, multiple construction materials, and eye catching details. Bold color choices are another feature of modern design. In many cases, the fireplace surrounds can be custom ordered to suit the specific tastes and needs of the client.
In addition to design and appearance, many homeowners also consider care and maintenance when selecting contemporary fireplace surrounds for their home. The natural and composite stone materials typically only require the application of a sealing agent during the installation process. Cleaning these materials consists of removing dust and dirt with a soft, clean cloth. Wood mantels are stained and sealed either before or during installation, and can be cleaned easily with wood polish and a cloth. Cast iron may be the simplest to clean, and a duster or cloth can be used to remove accumulated dust from the surface of the fireplace surround.
A fireplace with a minimalist surround.