What are the Different Home Treatments for an Ingrown Toenail?
There are not many different home treatments for an ingrown toenail. Typically, these treatments involve soaking the toe in a warm bath, often with the addition of Epsom salts, until the nail has softened enough that the skin may be pulled gently away, and the toenail clipped. Home treatments for an ingrown toenail can be effective if the toe has not become infected, or if there are not any other medical conditions present that affect healing or circulation in the feet. People with diabetes, weakened immune systems, or poor circulation should not attempt to treat an ingrown toenail at home, and should instead visit a doctor for treatment.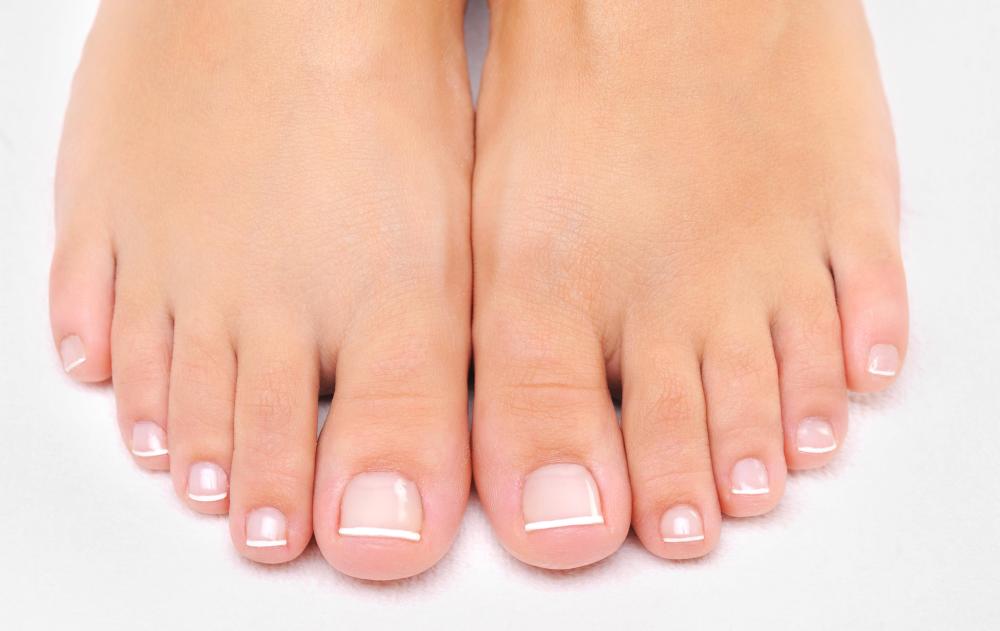 Some people are simply more prone to ingrown toenails than others, due to the shape of the toenails. One way to prevent ingrown toenails is to always cut the nails straight across. Do not create notches or rounded edges along the toenails, because this makes the nail more likely to grow incorrectly, and into the side of the toe. In addition, constantly wearing tight-fitting shoes that pinch the toes can affect growth of the toenails and lead to ingrown nails, so be sure to wear shoes that fit properly and allow movement in the toes.
One of the best home treatments for an ingrown toenail is to simply soak the toe in a warm bath with Epsom salts. Allow the foot to soak for a period of time, such as 20 or 30 minutes, and then see if the skin has softened enough to pull it away from the ingrown toenail. It may take a few treatments before the skin has softened enough, so if it is not possible to remove the ingrown toenail after one soak, be sure to cleanse the area thoroughly and wrap it with a sterile bandage until the foot can be soaked again the next day to prevent introducing bacteria into the area. Some people also put some antiseptic gel on the area to prevent infection.
These home treatments for an ingrown toenail are effective because once the skin can be pulled away, the toenail can be clipped; it is then a good idea to cleanse the area and dress it with antiseptic and a bandage. Be sure not to clip the nail at an angle when cutting it. Alternatively, it may help to temporarily insert a small piece of cotton between the nail and the skin to prevent the nail from growing back into the skin. Home treatments for an ingrown toenail are not always effective, however, and it is important to visit a doctor for treatment if the area appears infected. It will typically look swollen and red, and be very warm and painful to the touch.