What are the Different Freeware Tools?
The types of freeware tools currently available are virtually limitless. For nearly any software or program being sold for profit, there is almost sure to be a similar application being offered at no cost. Office programs, music programs, and others are all available for free download for various sites across the Internet.
Freeware tools generally refer to software programs that are created by a single designer for free download over the Internet. In most cases the original designer or programmer retains all rights to the program's source code, so users cannot distribute or sell copies to others. This is not to be confused with shareware, which refers to software that is offered as a free trial. After the trial is over, shareware software usually has to be purchased to continue being used.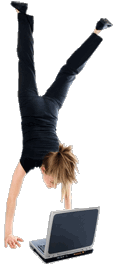 One of the most common and widely used types of freeware tools are office programs. Purchasing word processors, spreadsheet software, slideshow software, and similar programs can be pricey. Fortunately, there are versions of these popular programs available as freeware. Many of them are compatible with the most popular payware versions, which makes typing or creating documents and then sending them to others more convenient.
There may also be plenty of freeware tools related to a specific industry or job title. Web design software, computer programming software, accounting software, and drafting or design software may be available as freeware applications. Although they may not be as advanced technologically as programs that must be purchased, many of them are sufficient for certain professional functions.
Many times freeware applications can be downloaded to a PDA or smart phone. These are especially beneficial for business professionals who travel frequently but still need to keep up with emails and other elements of running their business. Students and busy working parents may also benefit from portable freeware tools.
Music programs are also popular freeware tools. These can be used for downloading music, playing music, or recording music. Some are more sophisticated than others, but there are dozens to choose from so there is probably something for every level of need.
To find freeware tools of all sorts, visit a freeware site. Freeware websites feature programs of many different types, often along with ratings of each one and comments from users of the programs. This helps provide accurate feedback on software before it is downloaded, allowing users to make more informed decisions.
Although most freeware tools are safe, it is a good idea to have an up-to-date virus protection software application installed prior to downloading freeware. On occasion, a virus will be disguised as a freeware download and may infect any computer on which it is installed. This may damage files and computer hardware. Having an antivirus software installed will help prevent this from happening.
AS FEATURED ON:
AS FEATURED ON:






Woman doing a handstand with a computer