What Are the Different Engineering Technician Careers?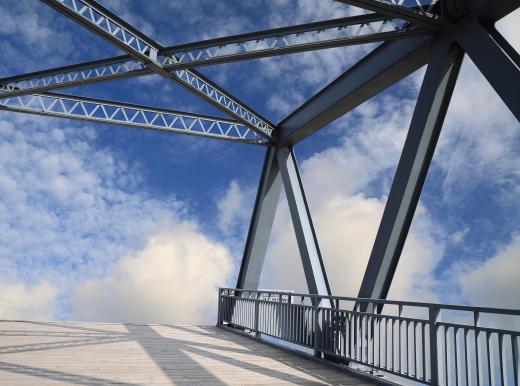 Although the engineering technician field is a broad profession, the most common engineering technician careers are civil, industrial, mechanical, and electrical. These positions usually involve assisting a head engineer, and most companies prefer that candidates for engineering technician careers possess at least an associate's degree. Depending on the type of career, an advanced degree and/or certification could be required to engage in most work activities. Most engineering technician positions are extremely technical and are performed in many locations, including offices, laboratories, factories, plants, construction projects, and other facilities that require technical maintenance.
Civil engineering technician careers are directly involved in assisting with the planning and building of water treatment systems, dams, bridges, highways, and numerous other public structures. The duties of these positions include preparing drawings, inspecting water treatment systems, performing land-surveying, and conducting surveys. Many of these projects require research, material pricing, and schedule planning, which are all a large portion of a civil engineering technician's job detail.
An industrial engineering technician is responsible for inspecting and maintaining machinery found in factories, shops, and office buildings, depending on the technician's area of expertise. They also oversee production and employees in order to plan additional ways to make a company's manufacturing more efficient. Daily duties may include assessing employee performance and production rates in order to make improvements. In addition to assessment tasks, these particular engineering technician careers also require technical repairs on equipment, and the employee will usually need to be certified.
Those who enter mechanical engineering technician careers usually work on large mechanical equipment, such as engines, nuclear reactors, or power tools. They are usually closely involved in the creation, improvement, and production of mechanical products. Drawing and planning products are both important duties performed by this position, and it usually consists of mapping out minor details of every component of a piece of equipment.
Most electrical engineering technician careers apply electrical theory to the development and production of electrical machinery. This position involves assembling, calibrating, repairing, analyzing, and testing various electrical products. Due to the highly technical tasks of this profession, employees must be up-to-date on a variety of computer programming, including design, analytical, developmental, and spreadsheet software.
These positions differ in specific tasks, but there are many general skills that these careers have in common. This field often requires critical thinking, interpersonal skills, technical writing abilities, quality control analysis, and operation monitoring. The Internet provides detailed job descriptions for various engineering technician positions and is an excellent resource for those seeking employment in this field.


By: Aania

Civil engineers often work on infrastructure projects, such as bridges.

By: michaeljung

Industrial engineers inspect and maintain factory equipment.

By: Damian Gretka

Civil engineer technicians may play a role in designing and building bridges, roads and tunnels.