What Are the Best Tips for Tooth Bleaching?
There are many tips from which a person may benefit when he is considering bleaching his teeth. Among them are those that recommend getting a doctor's help with choosing a whitening method and deciding whether one's preference is easy bleaching or maximum effectiveness. A person may also consider factors that help him decide whether to use a take-home kit or opt for in-office whitening. Additionally, a person may benefit from suggested ways to keep teeth white after treatment.
Sometimes the best tips for tooth bleaching are those that recommend seeing one's dentist for help. A dentist can provide a careful examination and then determine the best way to whiten a patient's teeth. There are methods of whitening the teeth without a dentist's help, but some people feel more confident when they consult a professional.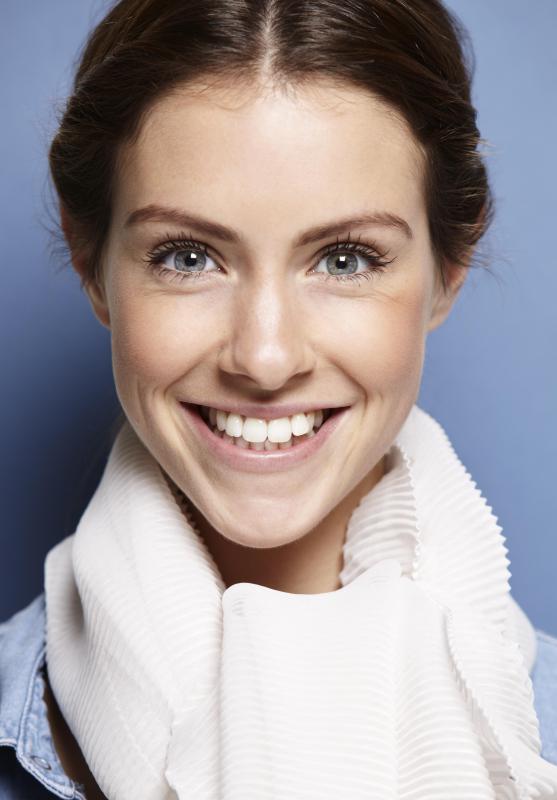 A person may also consider his goals when it comes to tooth bleaching. While getting whiter teeth is sure to be a person's primary goal, he may want the easiest method of whitening as well. For many people, this will involve whitening toothpastes, as they can be used as part of a person's normal hygiene routine and do not require complicated techniques or more frequent visits to see a doctor. It is important to note, however, that these toothpastes are usually most effective for surface stains.
Many good tips also help people decide whether to purchase tooth bleaching kits from their dentists. These kits usually include mouthpieces a person can wear each night. The mouthpieces keep the bleaching solution a dentist provides against the patient's teeth. Usually, the kits require the patient to wear the mouthpieces for at least a few hours each evening, and patients often need a couple of weeks of treatment. Despite this inconvenience, some people prefer this whitening method to over-the-counter (OTC) products that aren't always as effective.
If a person wants the maximum whitening power for his teeth, he may find many tips that recommend dental office treatments. These treatments can often make teeth multiple shades whiter, and usually produce whiter teeth than both take-home kits and OTC products. As such, tips for those who want to see the maximum change in their teeth often center on professional dental treatment.
Also among the best tips for tooth bleaching are those that involve avoiding substances that stain the teeth. For example, if a person is serious about getting whiter teeth, he may do well to avoid drinking coffee, tea, or cola drinks that may create new stains. An individual might also want to avoid smoking, as this can cause tooth staining as well. By taking preventative action, an individual can ensure that the time and money he spends on tooth bleaching yield positive results that last as long as possible.