What Are the Best Tips for the Use of Albuterol?
Albuterol is a medication commonly prescribed to manage symptoms of asthma and chronic obstructive pulmonary disease (COPD), and the exact method for the use of albuterol will vary, depending on which form of the drug was prescribed. It is available as an inhaler, a tablet, and a syrup, and patients should follow all dosage instructions carefully. When patients are prescribed the inhaler, the use of albuterol includes managing acute symptoms quickly. This is also called a rescue medication or a rescue inhaler, and patients will use it for fast relief when they have difficulty breathing or tightness in the chest.
Some people who suffer from breathing problems are prescribed the extended-release tablet form of albuterol. One of these tablets should generally be taken every 12 hours, or as recommended by a doctor. Patients who take extended-release tablets should never split, crush, or otherwise damage the pill before swallowing it whole with plenty of fluids. Splitting the tablet can cause an excessive amount of medication to be released in the body at once.
People who use the regular tablets may take them three to four times daily. It is important that the patient take each dose at approximately the same times each day, because this helps maintain regular levels of the drug in the body. The syrup is also typically taken three to four times daily. Patients should carefully measure out their prescribed dose with a medicine cup or similar device, rather than using a regular spoon.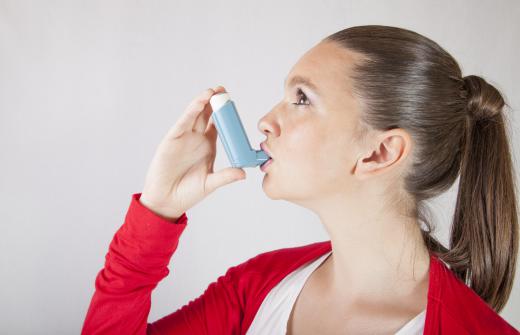 Those using an inhaler will need to prime the device if they have never used it before or if it has been at least two weeks since the previous use of albuterol. The inhaler should be shaken and pumped four times, pointed away from the patient's face, until a fine mist emerges. Before each dose, the patient should shake the device well, and then uncap the mouthpiece. He should then expel his breath, position the mouthpiece in his mouth, and create a tight seal with his lips.
Patients should then inhale the drug slowly while pumping the device, hold their breath for 10 seconds, and exhaling after removing the mouthpiece. Albuterol inhalers should always be recapped after each use to protect the device from germs. Patients should also hold the mouthpiece under warm, running water for about half a minute, at least once weekly.
Before using any form of albuterol, patients should discuss possible side effects with their doctors. Serious side effects may include blurred vision, rapid heartbeat, or problems breathing. They should also disclose their other medical conditions, medications, and supplements. The use of albuterol may be contraindicated in those with heart disease, diabetes, or epilepsy. It may interact with other drugs, including antidepressants, diuretics, and other bronchodilators.
AS FEATURED ON:
AS FEATURED ON:






By: alctxphoto

An albuterol inhaler.

By: perfectmatch

A patient with asthma may be prescribed an albuterol inhaler.

By: Monkey Business

Before using any form of albuterol, patients should discuss possible side effects with their doctors.