What are the Best Tips for Snoring Relief?
The best tips for snoring relief normally depend on the root cause of the snoring. There are many different factors that can contribute to excessive snoring. For some people, lifestyle changes such as losing weight, reducing alcohol and tobacco intake, and cutting back on the consumption of dairy can drastically reduce or completely stop a snoring problem. Other people might snore because of a medical condition such as sleep apnea, which could require surgery to correct. Some quick snoring fixes that work for most people are using nasal strips at night designed to keep the nasal passages open, or simply sleeping on the side instead of the back.
Discovering the root cause of a snoring problem can be done by troubleshooting. If a person discovers that she snores only when sleeping on her back, it's likely that the cause is related to some aspect of leading an unhealthy lifestyle. Eating healthier food, limiting alcohol and tobacco, and losing weight may give snoring relief to back snorers. A person who snores no matter which position she sleeps in might have sleep apnea. This serious condition can cause someone to stop breathing while they sleep, which leads to waking up often during the night to gasp for breath.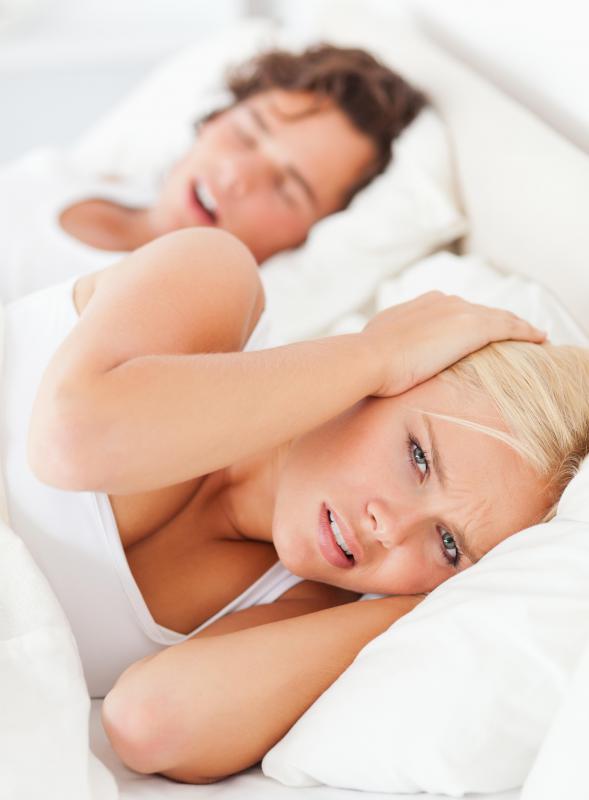 Sometimes a person may snore due to things she has no control over such as narrow air passageways or excess throat tissue, which is also a typical problem for people diagnosed with sleep apnea. Surgery to remove extra tissue and increase the size of the throat for easier airflow can give snoring relief if this is the cause of the problem. An ear, nose, and throat doctor should be consulted if a person has a snoring problem that doesn't respond to any simple remedies. The doctor can determine if surgery is needed, or if there is another treatment option.
Alternatives to surgery for snoring relief include masks worn during sleep that blow pressurized air into the face. These are referred to as Continuous Positive Airway Pressure (CPAP) machines. There are also mouth devices that adjust the position of the tongue and lower jaw during sleep, making it easier for the airway to stay open. A person with mild sleep apnea may be able to correct the problem by doing simple throat exercises for a few minutes each day. These exercises can strengthen the muscles of the upper respiratory tract which may be the key to snoring relief for some people.
Limiting alcohol intake can lead to a reduction in snoring.

Limiting tobacco use may provide snoring relief.

Snoring can be attributed to many causes.