What are the Best Tips for Prenatal Nutrition?
What an expecting mother eats often has an impact on both her and her unborn baby. Proper prenatal nutrition is considered to be very important. Obstetricians commonly advise eating a healthy diet supplemented with prenatal vitamins and staying hydrated.
Although a healthy, well-balanced diet is important for everyone, it is considered to be especially important for pregnant women. Weight loss should also be avoided during pregnancy since gaining weight is important. Mothers are also sometimes advised not to eat a vegetarian diet because consuming adequate is important to the baby's development, as well as the mother's health.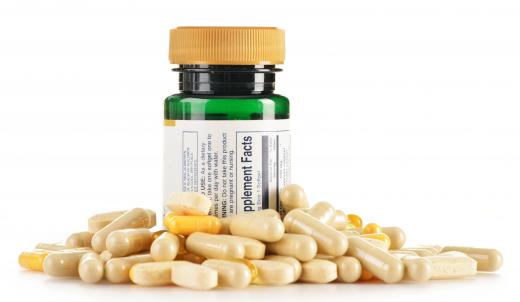 Lean proteins and whole grains are vital to fetal development and proper prenatal nutrition. Fresh fruits and vegetables should also be eaten. They should be washed prior to consumption, however, to ensure that they are free of pesticides and other possible contaminates. Dairy products, such as low fat milk, are considered to be important because they are a good source of calcium.
Calcium is also important for forming the bones of a growing fetus and keeping the mother's bones strong. If a fetus does not get enough calcium while it is in the womb, calcium will be taken from the mother's teeth and bones. A mother may need a separate calcium supplement in addition to her daily prenatal vitamin.
Daily prenatal vitamin supplements help an expecting mother get the extra vitamins and minerals needed for prenatal nutrition. Folic acid is an essential component in many of these types of vitamins since it can help reduce the risk of certain spinal and brain defects in infants. DHA, an omega-3 fatty acid, is another component in many prenatal supplements, and it is needed to form parts of the brain and eyes of the fetus.
Cravings are an often inevitable part of pregnancy. While the occasional splurge probably won't hurt, junk food should be limited. To ensure good prenatal nutrition, sweets and fatty foods should be limited to occasional, small portions.
Almost every prenatal nutritionist or obstetrician will advise pregnant women to stay away from alcohol and other drugs. These substances can drastically increase the risk of birth defects. Fish with high levels of mercury, such as swordfish and other predator fish, should also be avoided during pregnancy. Pregnant women are also advised to avoid foods that could possibly be contaminated with bacteria, including unpasteurized milk and soft cheeses.
AS FEATURED ON:
AS FEATURED ON:






By: monticellllo

A daily dose of prenatal vitamin supplements can help an expecting mother get the extra vitamins and minerals she needs for proper prenatal nutrition.

By: hartphotography

Pregnant women are particularly in need of healthy, well-balanced meals.

By: Rohit Seth

Folic acid, iron and the omega-3 fatty acid DHA are commonly included in prenatal vitamins.