What Are the Best Tips for Online Job Placement?
Tips for online job placement are often aimed at improving one's chances of landing a job using Internet services and resources. Some of the best tips recommend researching services before choosing one and making sure a service is reputable and has a good track record for helping people find jobs. Selecting a service that offers career assessment and a website with a 24-hour job search database may prove helpful as well. Additionally, a person might find tips that focus on professionalism helpful.
One of the best tips for online job placement is to research a service before paying a fee or signing up. This way, a job seeker can make sure the service he chooses is reputable and unlikely to take his money yet fail to help him. Even if a person chooses a free online job placement service, he will likely want to make sure he won't waste his time on a company that uses effective advertising tactics but doesn't really help anyone land a job. Additionally, he may do well to choose a service that allows him to easily update his information. For example, if he gains experience that makes him a more attractive job candidate, being able to update his resume with the service he chooses might improve his chances of landing a job.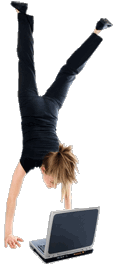 Tips for online job placement often also recommend choosing a web business that offers 24-hour access to a searchable job database. This is important, as not everyone keeps the same hours, and a job seeker could have other commitments to keep during normal business hours. For example, a database that is available 24 hours a day might come in handy if a person already works or goes to school for much of the day and needs to search for a job in the evenings and on weekends. Additionally, a job seeker may do well to choose a website that updates job listings regularly and deletes those that are no longer available. This way, he is not stuck searching through stale job leads.
An individual who is in need of online job placement help may also benefit from tips that involve career assessment. Some services ask a job seeker questions about his interests, background, education, strengths, and weaknesses and use his answers to help him choose jobs to pursue. These types of services can help a person to not land just any job, but to secure a job he really wants. Even a short self-assessment quiz might prove helpful for this purpose.
Some tips for online job placement also focus on professionalism. Often, people consider the Internet a fairly relaxed environment, and that kind of thinking could trickle into interactions between an employer and a job candidate. An individual may have a better chance of landing a job, however, if he handles online interactions with prospective employers with the same degree of professionalism he uses with companies in the real world.
AS FEATURED ON:
AS FEATURED ON:






Woman doing a handstand with a computer