What Are the Best Tips for Making Money with a Website?
In the digital age, creating a website is incredibly easy. The hard part, however, is making money with a website. While there is no foolproof method, there are a number of things that can be done to work toward making money with a website. Some of the tips include choosing the topic or business carefully, selling something from the website, keeping the content fresh, spreading the word, and using an advertising affiliate.
It seems logical that choosing the topic or business model for the website is important, but it can actually make or break the website. If the sole purpose of the website is to sell a product, then the decision is essentially made. If, however, the website will include information, blogs, or feedback from visitors, then one should consider choosing a topic that is truly interesting to him or her. Activity on a website can increase its ranking, which means that the owner will need to spend a considerable amount of time on the website making a topic that interests him or her more important in order to increase profitability.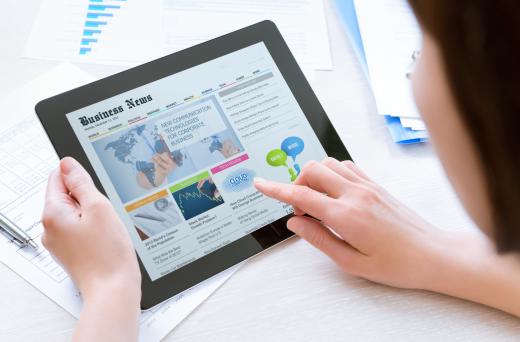 Selling a product from a website is considerably easier than it once was. With the advent of easy payment systems and software that allows easy ordering, selling a product can be a great idea for making money with a website. A product does not necessarily have to be a physical product — it can be advice, consultation, or a referral, as well.
Keeping the content on a website fresh accomplishes more than one goal. First, it may increase the website's rankings, as most algorithms account for activity on the website. Second, it keeps visitors interested and returning to the website. A blog is the easiest way to keep the content on a website fresh and interesting.
Getting the word out can also increase the traffic, and consequently the income, of a website. Social networks are a great way to advertise a website or a recent blog post to a website. Linking from one blog to another or from one website to another is also a great way to get the word out about a website.
Signing up for affiliate programs is a wonderful avenue for making money with a website. Affiliate programs place advertisements on the website and pay out to the owner of the website each time a person clicks on the advertisement or purchases something from the referral. The owner of the website is able to control how many ads are placed, where they are placed on the website, and even what types of ads are used, making the use of these programs a win-win in most cases.
AS FEATURED ON:
AS FEATURED ON:






By: bloomua

Search engine optimization (SEO) tools help ensure that the website is optimized for search results.