What are the Best Tips for Fall Planting?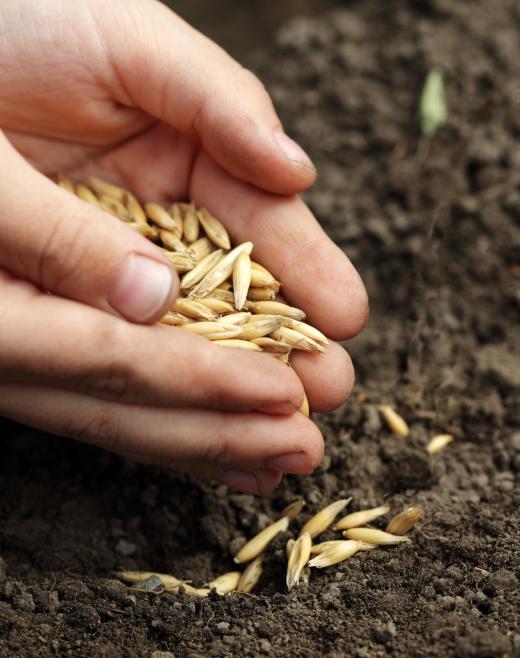 Using the fall season to take care of your garden is something many gardening experts recommend. Fall planting and maintenance actually help to create a well established garden for the spring and summer months. Autumn is the ideal time to take care of garden chores such as planting spring flower bulbs, planting grass seed, and paying extra attention to the feeding of existing grass. Another advantage of fall landscaping is finding wonderful prices on all kinds of plants, seeds, and other supplies, because many nurseries and garden centers like to discount their prices to get rid of inventory before winter.
For many experienced gardeners, fall planting means spring bulbs. It has long been an established practice during fall planting to include planning for spring flowers. The most common types of bulbs are tulips and daffodils. Plant nurseries normally keep these bulbs in stock through the fall season, and most experts recommend shopping early to find the more unique or hard-to-find varieties. Garden centers often only have a limited number of spring bulbs available.
While summer crops such as tomatoes and strawberries often get all of the gardening glory, fall planting can yield a wealth of vegetables before the winter weather gets too cold. It also can get a jump on those vegetables that can survive the cold to be ready for an early spring harvest. Good candidates include carrots, turnips, spinach, broccoli, and certain types of onions. Some areas will require special accommodations — raised beds, greenhouses, and windbreaks, among others — to help the crops weather severe temperatures, but fans of year-round gardening say the benefits make the effort worthwhile.
Fall, when the withering heat of summer has passed and the freezing temperatures of winter have yet to arrive, also is an ideal time to plant new trees and perennial flowers. Planting trees in the fall gives a gardener the advantage of soil that has been loosened by fall rains, warm soil that will welcome a new tree's young roots, and cool air that will be easier on the tree as it tries to retain moisture as it begins to grow. Waiting until fall to choose the trees you will plant also gives you a chance to see what color the leaves will be as they turn each year, giving you the opportunity to pick the color that will further highlight the shades already seen in your yard or garden. Choosing the right types of flowers during fall planting also will give your garden a jump on growing when the spring thaw rolls around.
By fall, lawn grass can be severely damaged, especially in the case of a summer drought or some other type of weather or insect issue. When those situations occur, putting down new grass seed can be an important step in fall planting. Gardening experts suggest ensuring the lawn to be planted is as weed free as possible to encourage the growth of new grass. Grass seeds have an easier time becoming established when planted sometime in the middle of September, because this gives the new plants time to root sufficiently before the heavy cold of winter settles down for the season in some climates. A local garden center specialist can describe the various types of grass seed best suited to each region and climate, as well as telling you more about the best time to plant it.
Another important aspect of fall planting and yard care is feeding your grass and lawn. A lawn and grass fertilizer with from 20 percent to 30 percent nitrogen is suggested. Timing is important with this chore, and the informed gardener can't go wrong if he chooses to take care of this vital part of a healthy green lawn at least twice in the autumn season. Early in September — around Labor Day, for those in the U.S. — and again around U.S. Thanksgiving — or mid- to late November — have shown to be ideal times for fertilizing both new and established grass. Many gardening pros advocate keeping this fertilizing schedule every fall.


By: Chepko Danil

The cooler climate during fall planting is better for some types of plants.

By: pyzata

Autumn is the best time to plant new trees.

By: emiliezhang

Grass seeds are best planted in the middle of September.

By: zimmytws

Tulips can be planted in the fall for late winter blooming.