What Are the Best Tips for Decorating a Powder Room?
When decorating a powder room or small guest bathroom, make the design unique from any other room in the house. Stay with one concept or theme, rather than mixing and matching various colors and decor. You might find rare or unusual bathroom decor at a flea market, antique shop, or even a thrift store. Add your own personal touch to ordinary essentials. One way to unleash your creativity is by decorating a few plain hand towels with creative embroidery.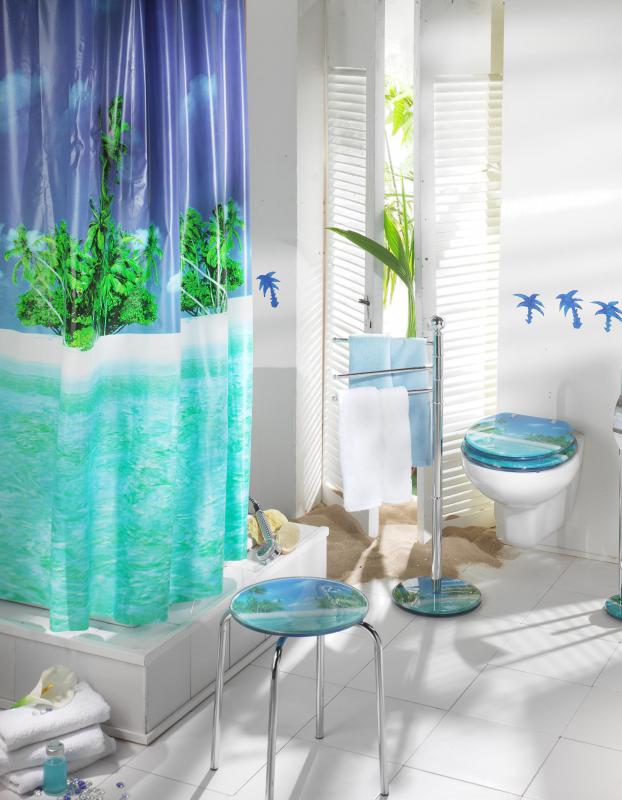 If your powder room is all white, you'll want to add a splash of color and contrast to brighten it up. If you don't like the idea of painting the walls or applying wallpaper, try adding some decorative borders or decals. The advantage of using decals is that most will not harm your walls and they are easily removed. You can find bathroom decals with clever phrases and sayings by searching the Internet. If you prefer, you can find decorative decals in the form of butterflies, seashells, or other art.
Keep it simple when using wall art for your powder room. Remember that less is best, so don't clutter your powder room walls with numerous stickers and decals. If you can't find decals you particularly like, hang two coordinating framed wall pictures to match your chosen theme.
Accessories for your guest bathroom should include the basics, such as liquid hand soap and guest towels, but you can go one step further. Make your guests feel special by furnishing your powder room with hand lotion or moisturizing cream. While you're considering accessories, add a decorative tissue box holder to your facial tissues. Installing a shelf rather than a towel rack is an option that can create more storage possibilities.
Whether your powder room floors are hardwood or tile, consider adding a decorative rug. You can change it up according to the season or various holidays. Some bathroom rugs are available in sets, with coordinating hand towels. These can add a festive touch during Christmas, Easter, or Halloween.
Perhaps it's time to completely remodel your powder room. You might want to update lighting fixtures or install a new sink or vanity. For elegance and charm, replace your old lighting with a chandelier. Even a new vanity mirror can refresh your old powder room. Keep in mind that by doing it yourself rather than hiring a professional contractor, you'll save money that can be applied toward the purchase of more bathroom accessories.
By: Gordan Jankulov

Seashells make great decoration pieces for a powder room.

By: Monster

Bathroom decor should be different from any other room in the house.

By: robert lerich

Towels should be featured in a powder room.

By: Dmytro Smaglov

Installing a chandelier can add elegance and charm to your powder room.

By: roblan

Hand cream may be added as an accessory in a powder room.