What are the Best Tips for Debt Management Budgeting?
While debt management budgeting involves a strict spending plan based on all of the income a person receives and all debts that are owed, the true success of any budget relies heavily on the amount of discipline applied to tailoring a person's lifestyle to fit within a budget. Good communication with creditors and staying organized are good tips for this endeavor. In order to be successful at debt management budgeting, however, an individual must also be willing to make financial sacrifices, as well as be able to clearly differentiate between wants and needs.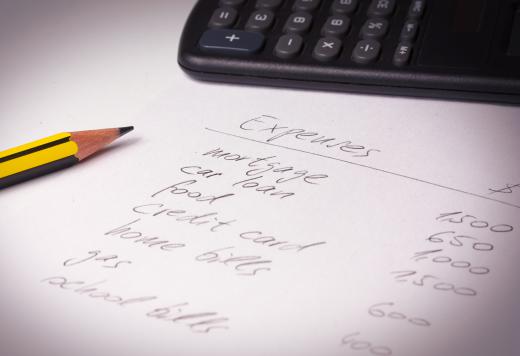 A debt management budget can not only help a person recover from poor financial decisions, but can prevent the accumulation of bad debt and a low credit rating. It can also help individuals prepare for a strong financial future. Therefore, when creating a budget, it is important to begin with a realistic accounting and analysis of all debts, spending and income. Before actually creating a budget, many people find that keeping a spending ledger helps determine areas where money is being wasted and where spending cuts can be made.
When designing budgets, another good tip is to write down the income received from all sources. This includes employment income, investment income, support payments and all other sources of financial gain. Strong debt management budgeting utilizes all of these sources to pay creditors on time, keep debts low and save money for long-term debt, such as mortgage payments and education expenses.
Another good tip for debt management budgeting involves opening all bills as soon as they are received and scheduling each for immediate payment. Outstanding creditors should also be contacted soon after a budget is created to negotiate a payment schedule based on income and other future earnings. It is also an important tip to be realistic in creating repayment timetables and only agree to pay what is within a budgeted amount for each debt.
Many people avoid debt management budgeting because they don't want to make sacrifices to pay debts down to a manageable level. The most important tip in financial management and debt recovery, however, is to eliminate wasteful spending. Being able to determine what money needs to be spent as opposed to what a person simply wants to spend money on, and sacrificing unnecessary spending, is crucial to the long-term success of debt management budgeting.


By: benjaminnolte

Debt management budgeting creates a strict budget that is based off of one's income.

By: blazic27

Making a list of necessary costs can help with debt management budgeting.

By: karelnoppe

Monitoring online statements can help manage debt.

By: Andy Dean

A budget is considered balanced when there is more cash coming in than going out.