What Are the Best Tips for Cooking Spicy Butternut Squash?
Butternut squash has a naturally sweet, mellow flavor that usually mingles well with brown sugar, nuts, and pumpkin pie spices. This same sweetness also lends itself nicely to creating spicy butternut squash. Chili powder, peppers, garlic, and onions mingle with the soft texture and mild sugars in the squash to create a delicious dish. The heat from the chili powder and other spicy ingredients is often underscored and controlled by the sweetness of the squash. Plus, roasting the squash often caramelizes the sugars, giving the dish even more flavor.
When making spicy butternut squash, it is often best to roast the squash with the spices on it. This gives the squash a kind of herbed crust on the outside, with warm, sweet flavor on the inside. Preparation usually starts with the cook washing and peeling the squash. Peeling may be done with a vegetable peeler or with a paring knife. Some cooks prefer to slice the squash in half before peeling because the flat, cut side gives the squash a steady base to work with.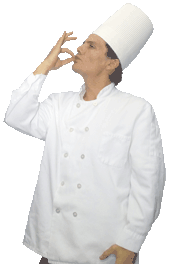 Like most winter squash, butternut squash has a seedy center. These seeds may be scooped out with a large spoon and either discarded or rinsed for baking. Baked, spicy butternut squash seeds often make a delicious garnish for a squash soup or baked autumn chicken. The seeds may be tossed with oil and spices and baked until golden.
Once seeded and peeled, the squash may be cubed and placed in a bowl. At this point, the cook usually creates the mixture that will turn ordinary butternut squash into spicy butternut squash. This mixture usually includes olive oil, chili powder, onions, garlic powder and hot pepper flakes. Some cooks like to keep a little sweetness by adding a pinch of brown sugar and cinnamon to the mix. Cooks should feel free to use or omit any of the above ingredients as desired. For instance, a modified mixture might include hot pepper flakes, cinnamon, brown sugar, and garlic.
The cook pours this mixture over the butternut squash cubes, gently tossing them with his or her hands. The spicy butternut squash then goes into the oven to be roasted. This mixture may also go into a pot to be simmered with a little bit of chicken stock. When the squash is fork-tender, in either case, the cook may remove it from the heat and serve it. Simmered spicy butternut squash may also be pureed into a soup. To do this, all the cook needs is a hand blender and maybe a little extra liquid.
AS FEATURED ON:
AS FEATURED ON:






Chef