What are the Best Tips for an Appellate Practice?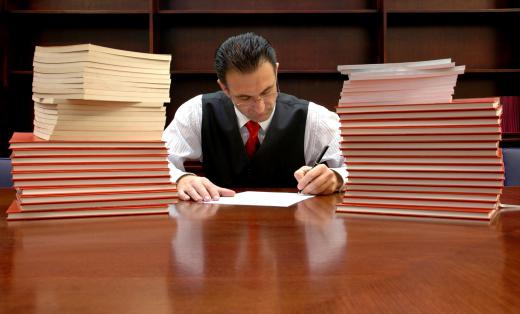 An appellate practice is a specialized area of the law in which an attorney presents a court ruling to an appeals court for review. Each state has at least one appeals court — most have several — and the federal appeals courts have 13 circuits. In rare cases, the appeals court may select the case for oral arguments in which the parties appear before the court to briefly state their case. In any appellate practice, the appellate attorney should first become familiar with the rules of the appellate court in which the case is pending.
Each court has a set of rules for the cases submitted. Some appeals courts have specific rules for handling criminal or death-penalty cases. The 13 federal appeals courts have standard rules of court, but each also has local rules. The rules contain information about the format and service of documents. No matter the type of case or seriousness of the offense or judgment, all rules must be strictly observed of one wants to develop a successful appellate practice.
The record of the case is a set of documents that includes the transcript of the trial and important hearings, motions, orders and other court filings. The written brief presented to the appeals court must precisely cite to the record when referring to any fact or ruling. An appellate attorney should also use the record to spot any issues that should be included in the appeal. The best roadmap to success for any appellate practice is to study the record carefully.
The brief is usually the attorney's only opportunity to persuade the appeals court that his position is correct, so the best arguments and cases supporting those arguments should appear first. The brief should be written in a professional tone and avoid emotional pleas. The appeals court will appreciate a concise brief that adequately sets out the party's position and authority.
If the case is selected for oral argument, the appeals court generally allots no more than 30 minutes. In a successful appellate practice, the attorney is prepared for the appeals court to ask questions about the facts and law of the case and should practice receiving and answering various questions. The appellate attorney should be well prepared and know the all of the material — including his opponent's strengths and weaknesses — like the back of his hand.


By: Corgarashu

An appellate attorney reviews documentation from a case when it appeared in a trial court.