What Are the Best Tips for Administering Eye Drops?
The best tips for administering eye drops include speaking with a healthcare professional about appropriate techniques, carefully reading the label on an eye drop bottle prior to use, and taking care to keep the eyedrops and the tip of the eye drop bottle sanitary. Individuals who need help administering eye drops in children and pets may need to take additional steps to ensure that the child or animal receives a sufficient dose of the eye medication. Proper body and head positioning is often an important factor in properly administering eye drops, particularly in situations where a person has other medical conditions that may be affected by improper eye drop administration techniques.
Anyone who uses eye drops, particularly prescription eye drops, should always follow the instructions provided to them by a doctor or nurse. This can be particularly true for individuals who have high blood pressure, as some types of eyedrops contain medications that may interfere with other hypertension drug treatments. In addition, parents of small children and pet owners may also wish to seek advice from medical or veterinary professionals who can assist them in learning techniques for safely administering eye drops to a frightened child or animal.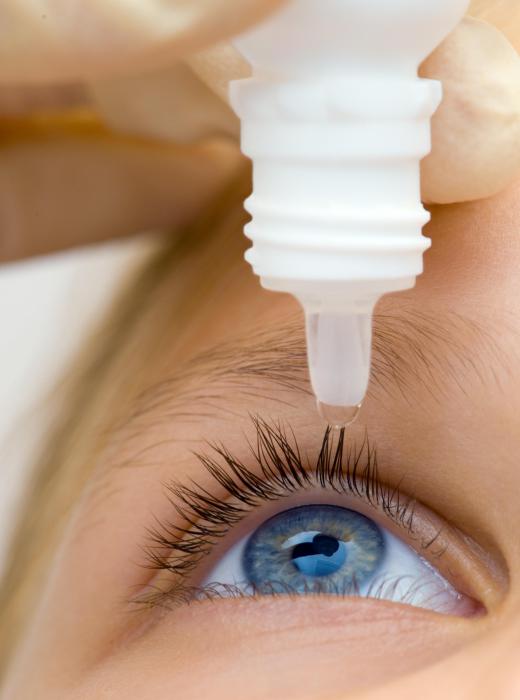 Before putting anything in one's own eye, or the eye of another person or animal, it is crucial to read the label on the eye drop bottle. There is always the risk of inadvertently grabbing a bottle containing a substance other than eye drops and potentially causing discomfort or damage by placing that substance in an eye. After determining that the bottle contains eye drops, is a good idea to check the expiration date on the label and to hold the eye drop bottle up to a light to make sure that the liquid does not contain any contaminants.
Those who will be administering eye drops should wash their hands thoroughly and carefully before opening the eye drop bottle. It is also important to make sure that one never touches the tip of the eye dropper or allow it to come into contact with the eye. Individuals receiving eyedrops should remove their contact lenses and should also keep a tissue on hand for dabbing their eyes after administering eyedrops. In most cases, it is quite possible to use eyedrops while sitting, though individuals and children who are skittish about eye drops may wish to lie down during the procedure. Similarly, those who are administering eye drops to their pets may wish to receive assistance from a third party who can hold the animal while it receives eye drops.


By: Vladyslav Danilin

Eye drops.

By: Africa Studio

A beaker of polysorbate 80, which is often included in eye drops.

By: Max Tactic

The eye dropper should be suspended directly over the eye to apply the medication, but should never touch the surface of the eyeball.

By: Oksana Kuzmina

A parent might need help with learning to give drops to a scared child.