What are the Best Hiking Tips?
Some of the best hiking tips include having proper planning, proper equipment, and appropriate clothing. You need to consider the length of your hike, the terrain where you will be hiking and its daytime and nighttime weather, necessary clothing — including footwear appropriate to the terrain — and necessary camping gear. You also need to consider who will notice you missing and contact authorities if you don't return on time.
Possibly the most important item on your list of gear is hiking shoes. They should be sturdy and well broken in before you leave. Experienced hikers recommend thick cotton socks for hiking, though specially designed moisture-wicking socks also may be of benefit; some wilderness firefighters prefer to wear a thin nylon knee-high sock, such as a men's dress sock, with a heavy wool sock over that. Gear should also include a well-balanced pack — for ease of transport — complete with a well-stocked first-aid kit and a Swiss army knife or Leatherman® combination tool.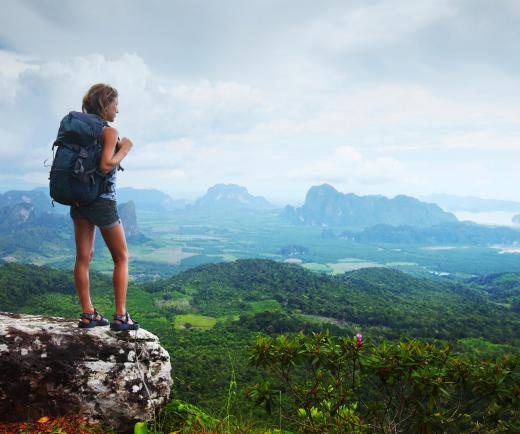 One of the more important hiking tips is to be prepared for anything, especially to spend the night outdoors. Of all the people who have been injured or lost while hiking and required emergency rescue, presumably none of them planned it that way. One way to help ensure that you'll live to tell your tale is to be prepared for a longer-than-intended stay outdoors. This means being prepared for nighttime temperature drops with a sleeping bag and extra clothing, and having enough food to help you keep up your strength while you await rescue. Waterproof matches are a must, and taking a first-aid class pre-hike is a good idea, too.
Even if it's sunny when you depart on your hike, another of the best hiking tips is to be prepared for a variety of weather. That means having a hooded poncho or rain suit and a quick-drying hiking shirt. A check of the weather forecast just before you leave on your hike is wise. If you're hiking in the mountains, be aware of the hypothermia risk and go prepared for cold; likewise, if you're hiking in the desert, be sure to bring plenty of water and salty foods to prevent dehydration. Sunscreen, lip balm, and a hat are desert must-haves, though they also can be beneficial in cooler climates.
Of the many hiking tips available, one of the most obvious is to know your route. If it's not a path you've taken before, be sure to have a map, compass and, perhaps, a global positioning satellite system (GPS). Lastly, be sure to let someone know where you're going, when you're going, and when you'll return. Make sure that person knows to call authorities if you haven't returned by the designated time.


By: Sergey

A hiking backpack.

By: MP2

Hiking boots.

By: Dudarev Mikhail

Hiking trips through scenic areas are often the most rewarding.

By: Nazzu

Carry lip balm on a hiking trip.

By: Danicek

Sleeping bags are a necessity for an overnight hiking trip.

By: Pshenichka

A Swiss army knife is an essential item to include in hiking gear.

By: Robert Neumann

Moisture wicking socks help keep feet dry.

By: Sergey Rusakov

Mountain hikers need to be prepared to deal with the risk of hypothermia.

By: rupbilder

Hikers hiking alone should consider choosing busier trails, or carrying emergency locator technology.

By: Dudarev Mikhail

It's important to wear new hiking boots on short, trial hikes to break them in gently.

By: emde71

A bottle of water should be brought along a hike.

By: surasaki

Suncreen, lip balm and a hat are must-haves when hiking in desert areas.