What are the Best Back Pain Remedies?
Treating back pain can be a frustrating process since it is such a persistent pain that affects the sufferer at all hours of the day and night. Back pain remedies run the gamut from medication to physical therapy, but until the source of the back pain is discovered, an effective battery of back pain remedies cannot be prescribed. The first step in alleviating any back pain is to discover the source and treat the problem that is causing the back pain. In some cases, it may be necessary to visit a doctor to get a correct diagnosis so back pain remedies can be put in place.
The best back pain remedies focus on preventing further pain in the future. This often means combining several different treatments, from simple painkillers to exercise routines and lifestyle changes. Many of the common causes of back pain have to do with poor posture, so starting a routine that will improve one's posture is one of the best back pain remedies. People who sit at a desk all day long are likely to feel back pain, but switching to an ergonomic chair that supports the lower back and neck might help. A stability ball in place of a chair can also help by engaging and strengthening core muscles that support the spine.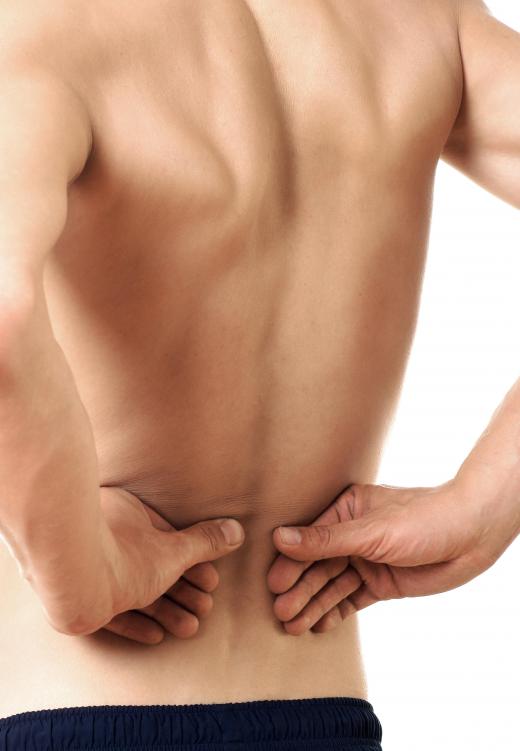 Other types of back pain stem from some sort of injury that must be diagnosed before back pain remedies can be employed. If this is the case, physical therapy may be in order. This may involve simple stretching exercises, or a more elaborate core workout that strengthens the muscles of the lower back, abs, hips, and legs. Core exercises are a good back pain remedy regardless of the cause of the pain, as they work the muscles that directly support the spine. A sedentary lifestyle can lead to a weakening of these important muscles, meaning the spine is free to move in ways that can lead to pain in all parts of the spine.
Some back pain results from nerve endings being pinched or pressured by strained muscles. Sciatic nerve pain can sometimes be felt in the lower back, hips, and legs. It is often a sharp pain that causes numbness or tingling down the back of the legs and in the buttocks. Stretching exercises can help alleviate sciatic pain, as can a core workout that helps strengthen muscles and improve joint movement.
AS FEATURED ON:
AS FEATURED ON:






By: underdogstudios

Remedies for back pain may depend on the source of the pain.

By: Monkey Business

A person's core muscles can become weak from being constantly sedentary, so it's wise to strengthen these muscles to support the back.