What Are the Benefits of Psychotherapy for Bipolar?
There are a number of benefits for an individual pursuing psychotherapy for bipolar, typically as part of a larger treatment plan that includes medication. The therapy gives the patient a safe place to discuss his or her feelings without judgment, and to learn methods for dealing with these feelings. In addition, psychotherapy for bipolar helps the patient to identify the "triggers" that he or she experiences, which can set off various moods; as a result, the patient may be able to avoid these triggers or anticipate them. The therapist may also be able to provide strategies to improve communication and dealing with relationships in the patient's life.
Individuals who suffer from bipolar disorder may experience periods of depression as well as periods of mania; this can last days, weeks, or even months at a time. It is rare that two people will experience the mental illness in exactly the same way. Most take medication to regulate these moods and help them to manage their illness, but psychotherapy for bipolar can be very beneficial as well. Though a person cannot control the fact that he or she has bipolar disorder, the first thing that therapy might do is begin to identify when the illness first began, and some of the issues in the patient's life that cause the most trouble, thereby giving the patient some level of control.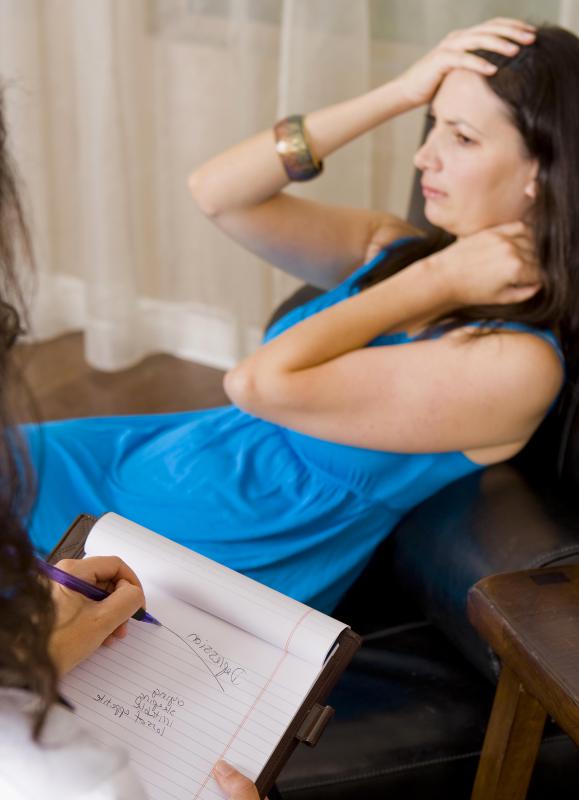 Many people with bipolar disorder will have "triggers," or external events or actions that are capable of causing swift mood changes. This can be very frustrating for an individual with this illness, particularly if they aren't aware that the triggers can do this. Psychotherapy for bipolar can help an individual to identify the things that can trigger a mood swing. This can help the individual to plan ahead either to avoid the triggers or to determine how he or she will deal with it when they occur to try to prevent the mood swing from worsening. The therapist can provide tools to try to break habitual thought patterns that can cause these negative reactions.
Another of the most important benefits of psychotherapy for bipolar is the way it can help patients improve their relationships with their families, friends, and coworkers. People with bipolar disorder may find communication difficult, or find that they have a challenging time maintaining relationships. In some cases, a therapist might be able to help provide strategies for better communication skills or altering behavior in relationships. It will take time to experience the benefits of psychotherapy for bipolar, but many patients find that it is an invaluable part of their treatment plan.