What Are the Benefits of Online Media Advertising?
Advertising has been a part of all business's marketing plans for a long time. Throughout the 1990s and the first part of the 21st century, however, many businesses discovered the importance of online media advertising. People of all ages and races all across the world use the Internet, making it imperative for any type of business to include online media advertising in its marketing plan. This form of advertising is very beneficial to businesses because it is inexpensive, it enables a business to easily measure which advertising ads and videos are working, and it enables businesses to deeply inform consumers about a product and/or service.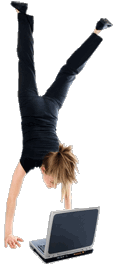 Many businesses turn to online media advertising because it is so inexpensive, especially when compared to advertising on television and the radio. Even though it is much less expensive, advertising online still has the ability to reach more people than TV and radio advertising because the Internet is used on a global basis, whereas certain TV stations and radio stations are seen and heard only in certain geographical locations. A large number of businesses find online advertising beneficial because it offers flexible payment plans, including pay-per-click (PPC) methods. Payment for PPC advertisements has to be paid for only when a consumer actually clicks on the ad, and the cost for these types of advertisements is very small for each customer who clicks on them. This is completely unlike TV and radio advertisements that must be paid for upfront.
The ability to measure the effectiveness of online advertising is one of its major benefits. As companies utilize TV and radio advertisements, they often are unable to determine which ones are catching consumers' attention and actually persuading them to purchase a product and/or service; this is completely unlike online media advertising. The performance of each online advertisement that a business distributes can be easily tracked. Even more importantly, the conversion rate of each advertisement also can be tracked, which is what allows a business to determine which online ads are effectively leading a consumer to purchase a product and/or service.
Utilizing online media advertising also enables a business to reap in the benefits of deeply informing consumers of a product and/or service. Most businesses will create an online media ad that is clickable, enabling the consumer to be linked to another page that provides even further information on the product or service being advertised. The more informed a consumer is about a product and/or service, the more likely he or she to purchase it.