What are Some Ideas for Halloween Crafts?
There are so many Halloween crafts that it can be almost frightening trying to choose just a few for fantastic decorations or Halloween fun. Some of these are fairly extensive to make, and others are popular even with young kids and make for terrific ways to entertain children as homes are decorated for this holiday. For simpler Halloween crafts, it doesn't take much in the way of supplies or time to create them, but others may require a little more financial outlay, and a great deal more time to produce.
A few less complicated Halloween crafts can include decorations to hang on walls, windows or from ceilings and lights. Perhaps one of the simplest is the paper jack-o-lantern. This is made with two to three pieces of colored construction paper.
A pumpkin shape is cut from a piece of yellow and orange paper. Each person can then design their jack-o-lantern face by cutting out sections of the orange paper. A tiny green paper stem can be attached to the top of the pumpkin and it is then glued to the yellow paper to give the illusion the pumpkin is lit. If hanging this on a window, use two pieces of orange paper, and glue a pumpkin face on each side of the pumpkin.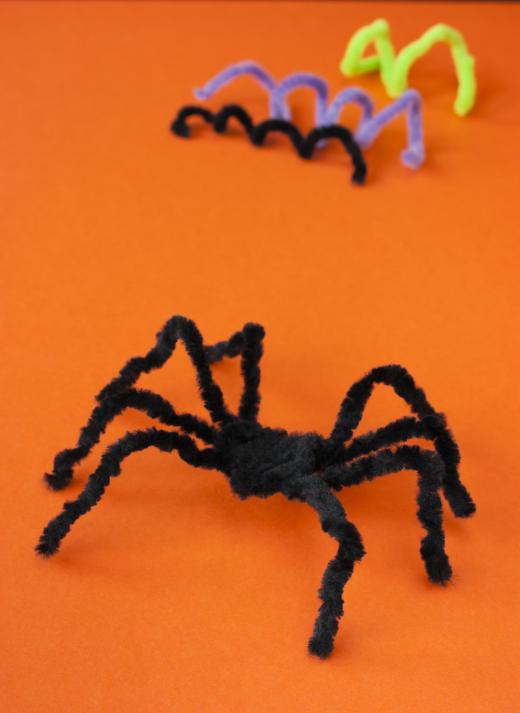 Another easy craft is the tissue paper ghost, a fun thing to hang from any available spot. By simply twisting tissue paper into a head, and painting or using a marker to add two eyes, little ghosts are fun to make. Other Halloween crafts that are usually easy to make from supplies on hand include coffee filter or egg crate bats, and coffee can luminaries. These last are usually painted black or covered with black or orange construction paper and have a few holes nailed in them, in any decoration a person wants. Filled with candles, such luminaries can provide spooky or jolly lights, though they should be kept off paths where they could easily be knocked over.
Additional fun Halloween crafts can include making ghouls with plastic bags. By cutting the bottom part of the bag (or openings) into strips, and slightly twisting the top (actually the bottom of the bag), ghoulish shapes are produced, which will hold up well in inclement weather and rustle in the wind. Kids or parents can also skip purchasing trick-or-treating bags, and decorate their own sturdy treat bags in a variety of ways.
Other Halloween crafts are more extensive, and could include sewing costumes, or using pieces of foam to create Halloween shapes. T-shirts can be painted or drawn on with fabric pens to create themed shirts and costumes. Alternately, some people view the business of making costumes each year as a Halloween craft, and get started on this early. With time and wherewithal, elaborate crafts can include finely painting votive holders as candleholders, making scarecrows, or cutting or carving wood, painting it and using it as yard decorations.
Those needing inspiration for Halloween crafts can find many ideas at local arts and crafts stores. If looking for crafts for kids, don't forget to ask preschool and grammar teachers, especially the experienced ones, who may have done quite a few different crafts over the years with various classes. Another good place to look is with companies like Oriental Trading Company®. They frequently have many inexpensive and simple craft ideas that are available in bulk supply.
AS FEATURED ON:
AS FEATURED ON:






By: Cheryl Davis

Making a scarecrow can be a fun Halloween project.

By: Ewapix

Pipe cleaners can be used to make Halloween crafts.

By: eden04

Wall ornaments for Halloween can be crafted using construction paper.

By: Monkey Business

All it takes to make simple Halloween crafts is scissors, paper, and glue.

By: Claudia Paulussen

Yarn might be used in different Halloween crafts.