What Are Outpatient Rehab Services?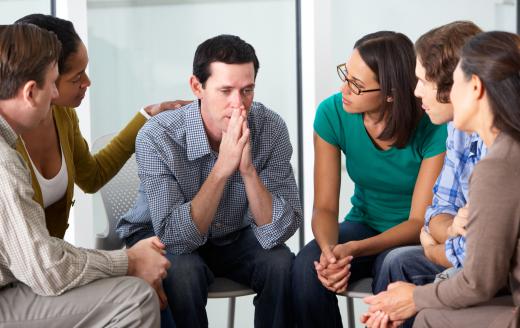 Outpatient rehab services are services that treat those requiring rehabilitation services in a clinical setting that doesn't require them to stay overnight. Clients come in to the facility for the services, and then leave after their session is completed. These services are best suited towards those who do not require intensive therapy or monitoring. The most common types of services include ongoing drug and alcohol addiction counseling and physical therapy for those with conditions that affect their mobility.
Addiction-related programs that assist those with drug and alcohol problems are among the most common types of outpatient rehab services. These services either offer extended support to clients leaving an inpatient facility or provide assistance to those who do not wish to admit themselves for an extended stay. Services include one-on-one counseling sessions, group sessions with a professional mediator, and group sessions run completely by others coping with addiction. Those who are withdrawing from certain substances, especially alcohol, should be admitted to an inpatient facility for monitoring until the substance leaves their system.
Physical therapy outpatient rehab services that provide assistance to those recovering from injuries or surgery are also common. While many clients require inpatient physical rehabilitation at first, they often graduate to outpatient services once they are able to move around enough to care for themselves at home. In some cases, these rehab services are performed in the patient's home, but the majority of clients go to an outpatient clinic equipped with the tools required to help them regain full mobility. These tools include exercise equipment, electronic stimulation units, and therapeutic massage tables.
There are many benefits to using outpatient rehab services for both the client and the medical facilities. For clients, outpatient services are typically more convenient, as clients can still work and care for their families if they are able to do so. Those with physical injuries often find it easier to recover in the comfort of their own home. For the facilities, it means less of a drain on resources and a wider availability of space for those who need the extra attention of an inpatient stay.
Outpatient rehab services may have some drawbacks for the clients. Those with drug and alcohol addictions may be unable to receive support when they need it if the facility is closed or difficult to reach. Physical therapy clients may be at a higher risk of sustaining injury due to frequent trips outside their homes to the outpatient facilities. A medical professional can assist clients in determining if their needs would best be met by an inpatient or outpatient rehab facility.


By: Monkey Business

Outpatient rehab may offer the opportunity for group therapy.

By: Monkey Business

Outpatient drug rehab sessions typically include individual therapy.