Oat rings are a form of cereal which is made with oats. Oats are high in fiber and an assortment of dietary minerals, and when prepared with minimal added ingredients, oat rings can be an excellent addition to the diet. A number of markets carry oat rings, manufactured by a variety of companies and with a wide assortment of added ingredients. It would behoove you to read their labels closely to find out how added ingredients have affected their nutritional value.
This cereal is typically made from oat flour, a flour which is ground from whole oats, retaining the fiber rich bran and nutrient rich germ in addition to the endosperm. The oat flour is mixed with water to create a slurry which can be poured into ring molds and baked, creating a crispy, mildly flavored cereal which can be eaten plain or served with milk and other ingredients, such as fresh fruit. One famous form of oat rings is the popular breakfast cereal called Cheerios.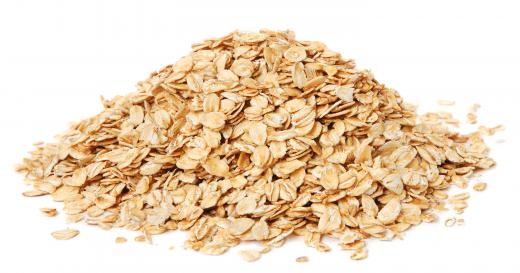 Many cereal manufacturers create oat rings, using the high nutritional value of oats as a selling point. Unfortunately, many of these cereals contain added ingredients which are not so beneficial. For this reason, it is important to check for ingredients like added sugars, corn syrup, and so forth, which may make the cereal more palatable, but they will also radically decrease the nutritional value. The healthiest purchase is plain oat rings, made with just oats and water, and perhaps fortified with some additional nutrients.
The flavor of oat rings is relatively plain, and it can be made more exciting by adding things like sliced fresh fruit or milks. Many health organizations promote the consumption of plain oat rings, as they can be beneficial when eaten as part of a balanced diet. In some cases, companies actively endorse specific products, allowing cereal manufacturers to use their logos on their packaging, but this is not necessarily an assurance that the cereal is healthy: always check the nutritional label!
Because oat rings have been cooked and thoroughly dried, they are relatively stable. They can go stale once their packages are opened, so it is generally a good idea to store oat rings in an airtight container in a cool, dry place. This cereal tends to be popular enough that it rarely lasts for very long, making the risk of stale cereal fairly negligible.
AS FEATURED ON:
AS FEATURED ON:






By: eAlisa

Oats.

By: airborne77

Oat flour, which is used to make oat rings.

By: bit24

Some oat ring cereals contain large amounts of sugar in each serving.