What are Medical Marijuana Clubs?
Medical marijuana clubs are shops that sell multiple forms of cannabis to individuals who have been authorized by a physician to use the drug as a treatment for various medical conditions. While on a federal level cannabis is illegal throughout the US, the laws of certain states permit its use for confirmed medical purposes and allow for its distribution through medical marijuana clubs. Those who wish to visit a club must first obtain an identification card verifying their medical need for cannabis.
Cannabis has a long history of use as a medical treatment, and some research supports its purported usefulness in easing the symptoms of conditions like glaucoma and arthritis and suppressing certain side effects of chemotherapy. In the US, however, the question of using a criminalized substance for medical purposes is a contentious one, with many health professionals refuting cannabis's alleged benefits, and many others protesting its medical use on moral grounds. While medical cannabis is illegal at the federal level, the laws of some US states allow for its use as well as its sale through medical marijuana clubs.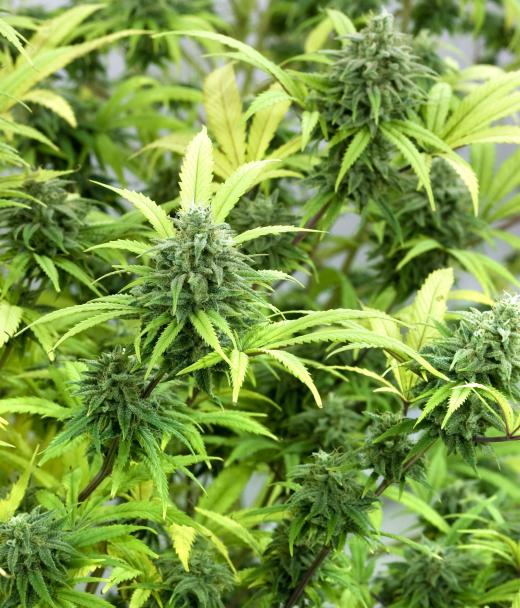 As of May 2010, six US states — California, Colorado, Maine, Montana, New Mexico, and Rhode Island — permitted the sale of cannabis through medical marijuana clubs, sometimes also known as marijuana dispensaries or pot clubs. Of these states, California has become something of a leader in the support of medical cannabis and its sale, passing two pieces of legislation — Proposition 215 and Senate Bill 420 — which protect authorized medical marijuana users as well as the physicians who prescribe the drug and the dispensaries that sell it. Since the passage of this legislation, California has seen the establishment of more than 2,000 medical marijuana clubs.
Admittance to medical marijuana clubs is granted only to those who have obtained the correct documentation as dictated by their state. In California, for instance, an individual must first visit a physician who, after performing an examination, may prescribe cannabis for medical use. He must then bring his prescription to his county's Department of Public Health office, where he will be issued a medical marijuana identification card. This card is then presented to club staff at every visit.
Once granted access to the club, the individual will normally find a large selection of cannabis products to choose from. He will generally be able to choose from a wide variety of smokable marijuana. In many cases, he will also find edible marijuana goods, like cakes, brownies, and beverages.
AS FEATURED ON:
AS FEATURED ON:






By: Boyan Dimitrov

Marijuana plants.

By: mustafa_dastekin

Medical marijuana clubs may sell brownies.

By: janifest

In the United States, some states allow cancer patients and other people with documented health issues to legally purchase medical marijuana.