What Are Low-Fat Cookies?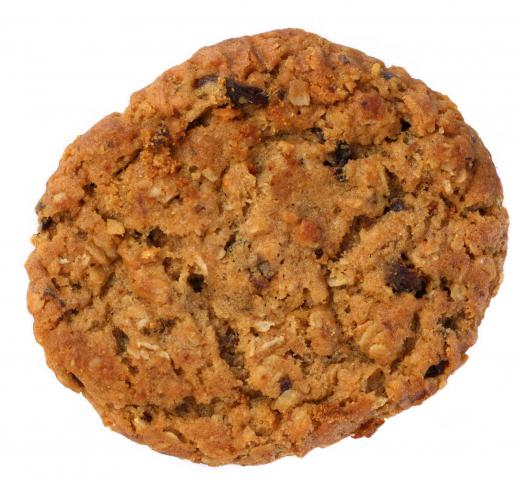 Low-fat cookies, either homemade or purchased, can be part of a diet designed to minimize consumption of fatty foods which may promote weight gain. Regular cookie recipes can be altered to become low-fat with substitutes for the butter and oil, but substitutions need to be done carefully as baking is a science. It's important to note that cookies labeled as low-fat aren't necessarily low in calories or sugar, though they can be made to suit these needs. Specialty products are available for those who have added dietary concerns, including gluten allergies.
When modifying a standard cookie recipe to make low-fat cookies, butter and oil are the main ingredients to consider replacing due to their higher fat content. Butter and oil can both be replaced by unsweetened applesauce, but it can lend a slight apple taste to the cookies if the other ingredients don't overpower the sauce. Unflavored yogurt is another option if the apple taste is a concern, and low-fat margarine can also be used to replace the butter.
Removing all of the fat from a cookie recipe isn't possible due to the chemistry that makes the cookies bake. Leaving in a small amount of fat will keep the flour from binding improperly with the sugar, which results in a tougher texture to the finished cookies. When making low-fat cookies, experimentation is the key to finding the right balance of replacement ingredients.
It's important to consult nutrition labels when purchasing low-fat cookies. The stated portion size should be heeded, since eating four servings of low-fat cookies defeats the purpose. Fat content isn't the only thing to watch, however, as high overall calories and sugar content can also lead to weight gain.
Low-fat cookies can be made to be lower in both sugar and calories. Sugar substitutes can be used entirely in place of sugar or blended with a small amount of sugar. Caloric considerations come mainly from stir-in ingredients, such as chocolate chips or caramel, though sugar-free or low-sugar versions of these products are sold in stores and can be a great substitution.
Gluten-free low-fat cookies are available for purchase in specialty stores, but may carry a higher price tag. People with gluten allergies might prefer to prepare these cookies at home for a greater control over ingredients and cooking environment, with lesser risk of cross-contamination. Gluten-free flour is sold in most large supermarkets, as are gluten-free oats, and package directions on the flour should be followed for conversions.


A low-fat oatmeal raisin cookie.

By: Calgary Reviews

A low-fat molasses cookie.

By: rimglow

Applesauce can be used as a substitute for butter or oil some recipes.

By: Brenda Carson

It's possible to bake homemade cookies that are delicious and low in fat.