People who are looking for an easy way to enjoy lasagna may want to try lasagna rolls. This dish resembles traditional lasagna with the exception that the meat, sauce, and cheese are placed inside the noodle, and then rolled. The finished product is then broiled or baked for only a few minutes to allow the cheese to become melted. Lasagna roll ups can be enjoyed as an appetizer, snack, or a main dish with salad and garlic bread.
The first step in making lasagna rolls is to boil lasagna noodles until they are tender. Next, a cook can fry ground beef until it is golden brown, adding spices such as oregano or garlic to the meat for flavor. After draining the beef, spaghetti sauce is spread along the length of the noodle before placing meat and mozzarella cheese in the center. The mixture is then rolled up, keeping the noodle on the outside and the meat and cheese filling on the inside.
Unlike traditional lasagna, this cheese dish takes very little time to make. This is because once the noodles have been rolled, they only need to be placed in the oven for a very short period in order to make sure the rolls are completely heated. They are normally wrapped in aluminum foil before being placed in a casserole dish in order to seal in the flavors and speed the baking process. It typically takes only 10 to 15 minutes in a hot oven to accomplish this.
Lasagna rolls may sometimes be garnished with additional tomato sauce or sprinkled with parmesan or mozzarella cheese before baking. A lasagna roll may be cut into slices and then secured with a toothpick when served as an appetizer. An entire noodle may be served as a main course, which could also include garlic bread and a fresh garden salad.
Vegetarians as well as people who are watching their weight can enjoy lasagna rolls. For both vegetarians and dieters, the roll-ups may be made with spinach rather than ground beef. It might also be prepared as a cheese dish, adding ricotta cheese along with the mozzarella to give the filling a creamier texture.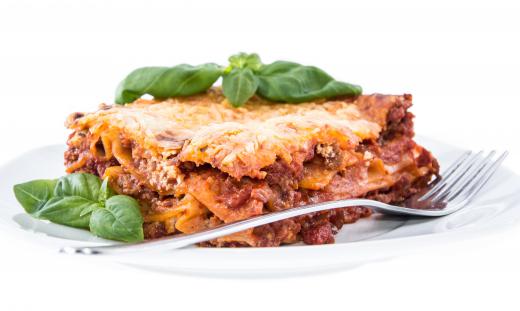 Leftover lasagna roll ups can be covered and then placed in the refrigerator. It can also be frozen, and many people find it easier to do so than with traditional lasagna. This can make lasagna rolls a good choice for a make-ahead dinner whether serving only a few guests or a large party.
AS FEATURED ON:
AS FEATURED ON:






By: Elenathewise

Parmesan cheese is often sprinkled on top of lasagna rolls.

By: Studio Gi

Mozzarella with tomatoes and basil leaves.

By: HandmadePictures

Lasagna rolls resemble individual lasagna casseroles as they have the same ingredients but cook much quicker.

By: Dionisvera

Lasagna rolls can be made with spinach instead of ground beef.