What Are Ideas for Easy Dinners with Ground Beef?
Easy dinners with ground beef typically include "meal in a dish" type recipes such as chili, vegetable beef soup, stroganoff, and pot lasagna. These meals can be cooked on a stovetop, and all the ingredients can be combined in one pot. Not only does the one-pot method minimize cooking time, but cleanup is also a much easier task. These easy dinners with ground beef can be served alone or with bread and a simple side dish.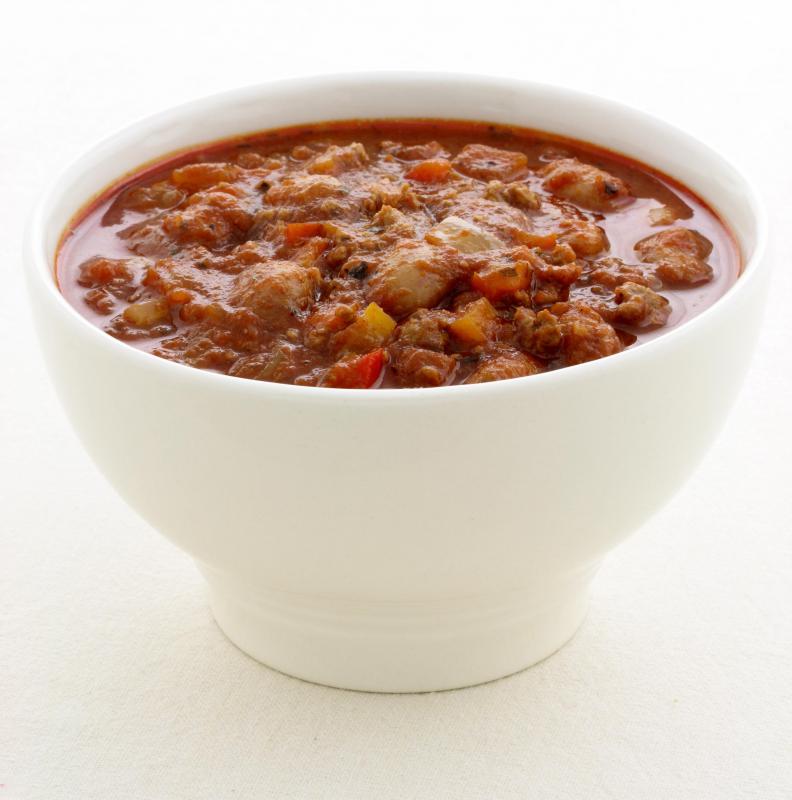 Chili is usually prepared by first cooking the ground beef along with a mixture of chopped onions and peppers. When the meat mixture is fully cooked, diced tomatoes, beans, and spices such as chili powder and cumin are added. The type of beans used in chili can vary, but popular choices include pinto beans and kidney beans, and for thicker chili, some recipes call for the addition of a can of refried beans.
Pot lasagna is prepared by browning ground beef along with onions and garlic in a large cook pot. Once this mixture is cooked, water and shell pasta are added. When the pasta has fully softened, spaghetti sauce and shredded mozzarella and parmesan cheeses are stirred in. This type of lasagna takes less time than traditional lasagna, and can be a good choice for a quick and hearty meal.
Beef stroganoff is traditionally made using strips of steak, but it can also be made using ground beef. This type of stroganoff is prepared much in the same way as pot lasagna. The beef mixture is cooked first, then water and egg noodles are added. When the noodles are cooked and softened, cream of mushroom soup, sour cream and sliced mushrooms are blended in. This dish can also be made by using rice instead of egg noodles.
Vegetable beef soup is easy to prepare and, of all the easy dinners with ground beef, it is probably the most budget-friendly. The soup has a base of stewed tomatoes and browned ground beef, and most any combination of vegetables can be added to the pot. Most recipes call for the use of canned or frozen mixed vegetables, but this soup can also be made using fresh vegetables. In addition, vegetable beef soup is an ideal way to use leftovers.
The main attraction of preparing easy dinners with ground beef is the time-saving element. For this reason, most cooks serve these dishes without the addition of side dishes. In most cases, along with bread, a serving of fruit or a green salad will sufficiently complement the meal.