What are Eviction Rights?
Eviction rights are legal rights established for the benefit of tenants and landlords undergoing eviction proceedings. Landlords must follow a carefully established legal procedure when preparing to evict tenants and tenants also have certain responsibilities under the law when they are subject to eviction. Eviction law varies significantly by jurisdiction and it is advisable to seek professional advice if an eviction is imminent. Landlords and tenants can both access information about eviction rights through government agencies and tenants can receive assistance through tenants rights organizations and legal aid groups.
Generally, landlords cannot simply enter a residence, change the locks, and notify the tenant of an eviction. Some housing contracts allow a landlord to ask people to leave without cause, but ample notice, such as a month, must be provided. These kinds of month-to-month arrangements also allow tenants to leave on a month's notice. In the case of an eviction, a landlord must identify a reason for an eviction and issue a warning.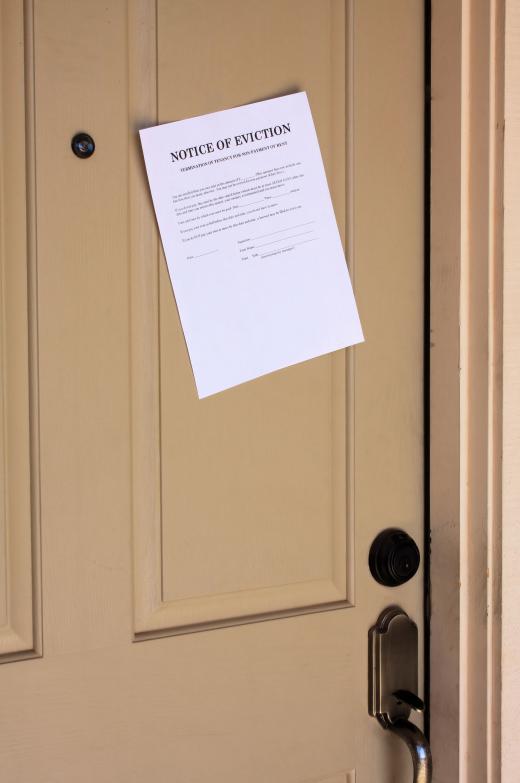 Warnings can take several forms. One is a notice to quit or pay rent, telling tenants who are behind on the rent that they have the option of moving out or making up the back rent. If there is a violation of the housing agreement, the landlord can issue a notice telling the tenant to address the issue or leave. After being warned and given a window of time, if the tenant fails to respond, a landlord can file an eviction notice ordering the tenant to vacate immediately. Under eviction rights law, this notice can be backed by court order and assistance from law enforcement in the event that the tenant does not leave.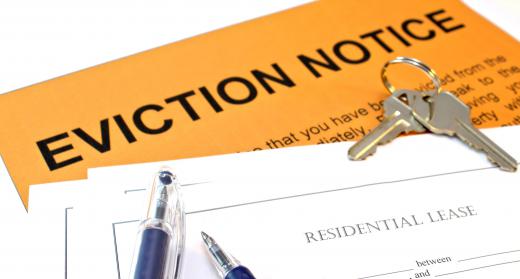 Under eviction rights law, landlords must provide clear written notice and the tenant must have time to respond. If there is an immediate safety concern making a structure uninhabitable and the structure is condemned, tenants can be evicted by government authorities until the issue is resolved. In these situations, landlords must pay damages to tenants to compensate them, unless the damage that led to the decision to condemn was caused by the tenant.
Being familiar with eviction rights is advisable for both landlords and tenants. Landlords should understand how the system works so they can issue eviction notices and other communications in clear compliance with the law, preventing legal problems in the future. Tenants should be aware of their rights when notices of eviction are served, as well as their responsibilities.
AS FEATURED ON:
AS FEATURED ON:






By: bagraphix

A notice of eviction posted on an apartment door.

By: mjlp4337

Landlords must follow a proper legal procedure when evicting tenants from a property.