What are Cropped Leggings?
Cropped leggings are a women's clothing item made from cotton and spandex. They are similar to footless tights, but are typically much thicker, and are shorter in length than most tights or leggings. Cropped legging can vary in length, but will generally fall between the knee and ankle depending on the style.
Like tights, cropped leggings are not designed to be worn alone. They are considered an accessory, and should be combined with other clothing items to create a complete outfit. Cropped leggings are most commonly worn with long tunics or short skirts and dresses. Because they provide a bit of extra coverage, they can be worn with short hemlines without appearing overly revealing.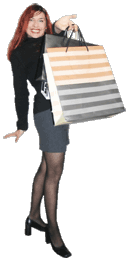 This style of clothing was very popular throughout the 1980s, and has made a comeback in the mid 21st-century. Because they contain a relatively large spandex content, cropped leggings are flattering to almost any body type. They are forgiving of a few extra pounds, and often have a slimming effect. By providing any extra layer of clothing, leggings also help to keep the wearer warm, and may allow women to wear skirts and dresses more comfortably on colder days.
Cropped leggings can be found in countless colors, patterns, and designs. They may be striped, plaid, or polka-dotted, and can even feature lace, bows or other adornment along the bottom edges. These leggings may be very thick or thin, and can range from sheer to opaque. Some cropped leggings are low-waisted, while others have higher waistlines to offer additional control or support along the waist.
While leggings are quite versatile, there are certain outfits that are not considered complementary to this style. One of the primary fashion rules for leggings is that they should never take the place of pants or skirts. They typically do no offer enough coverage to flatter most bodies when worn alone. This means that most shorter tops won't work with leggings, as they won't offer the necessary coverage. Cropped leggings should also not be worn under shorts or cropped pants.
Buyers can enjoy a great deal of versatility when it comes to footwear options. Cropped leggings can be worn with flats or boots for a casual look. They can also be worn with pumps or heels for a dressier look. Because of their cropped bottoms, these leggings also fit well into tall boots, which may not fit over full-length pants or leggings.
AS FEATURED ON:
AS FEATURED ON:






Woman shopping