An infant's first tooth is a major milestone. It heralds the end of pureed mystery food in a jar and the beginning of more adventurous fare—toast squares, fruit chunks, and crackers. The first tooth shows up, in most children, between six and twelve months of age. The next three usually appear soon after. However, it can take as long as eighteen months for the first tooth to pop up.
Lower teeth usually are the first to erupt, followed by their upper counterparts. Teeth arrive starting in the front, then progress towards the back of the mouth. Baby teeth tend to arrive in groups of four, with a new set coming in every four or five months. In most children, all of their baby teeth are in place by two and a half years of age.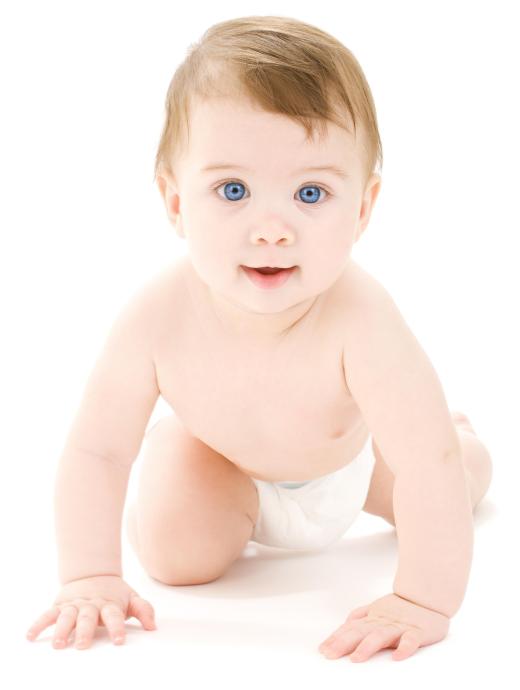 Baby teeth, also known as deciduous teeth, milk teeth, or primary teeth, function as spacers for the adult teeth, which are developing under the gums. Made of dentin, a calcified bodily tissue also present in adult teeth, these temporary teeth are just as important as the later permanent teeth. They help children eat and learn to talk. Like permanent teeth, baby teeth require daily care to keep them healthy.
The American Dental Association (ADA) recommends that children visit a dentist by one year of age for a wellness visit. At the latest, all children should make their first dental visit by the time they are three, and all of their temporary teeth are in.
Good habits in brushing, flossing, and regular dental visits should be set in place as early as possible. Baby teeth can be brushed with a specially made infants' tooth brush, or with a piece of gauze wrapped around a finger. When children are old enough to brush for themselves, they can graduate to a kids' toothbrush. Regular toothpaste shouldn't be used for children under two because of the fluoride it contains, but there are some infants' toothpastes now available for little ones.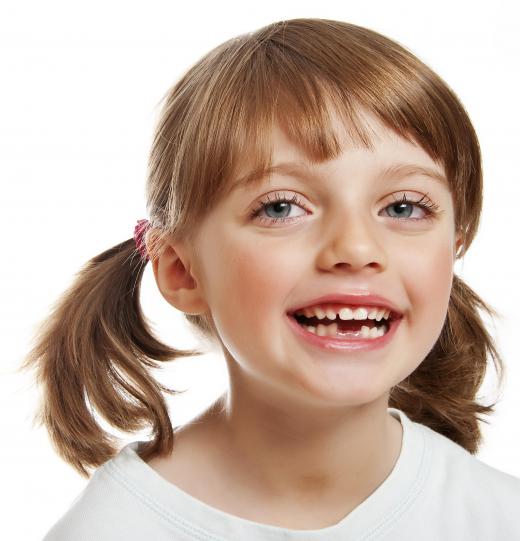 The leading cause of problems in baby teeth is baby bottle tooth decay. This can happen when sweetened drinks are consumed by a child, usually before bed. The remnant of the liquid remains on the teeth until it is brushed off. If it's left on for too long, the teeth will begin to decay. The best preventative method for this is to not send a young child to bed with a bottle, or sippy cup, containing milk or juice. Water is a much better alternative for keeping baby teeth healthy and strong.
Baby teeth fall out in approximately the same order they arrived in. The four front teeth are usually the first to go, around age six. From there, the other teeth will gradually loosen and fall out on their own.
A child's adult teeth will begin to come in a few weeks to a couple months after the corresponding baby tooth is gone. Baby teeth are pushed out of place by the adult teeth pressing on them as they grow and develop. By age twelve, most children have lost all of their baby teeth. Adult teeth will continue to come in until all thirty-two are in place. The last four molars generally erupt by the twenty-first birthday.
AS FEATURED ON:
AS FEATURED ON:






By: Lev Dolgatsjov

A baby before its baby teeth have come in.

By: Richard

A girl with a baby tooth missing.

By: Vera Kuttelvaserova

A girl who.

By: picsfive

Baby teeth can be brushed with a piece of gauze wrapped around a finger.

By: dimedrol68

Children start to lose their baby teeth by about age 6.