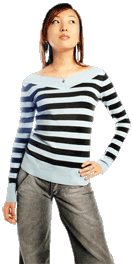 Anklet socks, also referred to as ankle socks or sport socks, are short socks that are designed to cover just the feet. These socks typically end just below the ankle, and are not intended to extend up above the shoe. However, some anklet socks extend slightly above the ankle, and may be folded down; it depends on the manufacturer's definition. Ankle socks are designed in different thicknesses and colors for different tastes and purposes.
Anklet socks designed for sports use are typically thicker than other types of socks. They may have a reinforced heel and toe to withstand more wear. In addition, the area directly behind the ankle may have a little extra padding, to prevent sneakers from rubbing the ankle and creating a blister. Sport socks generally come in plainer colors such as white, gray, and black.
Another common type of anklet socks are those designed for fashion use. Many people wear anklet socks so that the socks remain hidden in the shoes, so these types of socks are generally designed to be thin. That way, they can be comfortably worn with dress shoes, which tend to be fairly tight.
Ankle socks typically come in darker colors, including black, brown, and navy blue, as well as flesh-toned colors to make them less noticeable in shoes with a more open design that show more of the foot. Anklet socks are available in any pattern or color, however, to suit any taste. Novelty socks are popular as well, which might show a cartoon character or holiday theme.
If warmer, taller socks are desired, as would be worn under boots, anklet socks are probably not the best bet. Crew socks or quarter length socks might be a better alternative, as they tend to reach over the ankle to the the mid-calf. Stockings or tights are another option to be worn inside open shoes, and they come in varying lengths as well. Another option is "footie" socks, which are generally designed to cover just the bottoms of the feet, toes, and heel, and generally do not cover the top of the feet at all.
Anklet socks are fairly inexpensive and may be purchased singly, or often in a value pack. They are available for men, women, children, and babies. Socks can be found in virtually any clothing, department, or discount store, or specific novelty socks may be purchased online. Socks are typically sold to fit a range of shoe sizes, rather than one specific size, so they are fairly easy to purchase online.


Woman with hand on her hip