How Effective Is Zolpidem for Insomnia?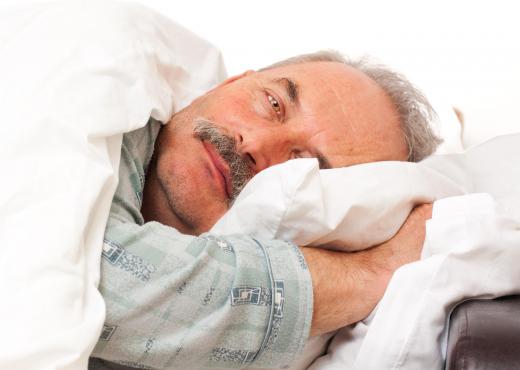 Zolpidem is a medication prescribed for sleep, and it is related to a series of anxiety medications known as the benzodiazepines, which can also cause drowsiness as one of their central side effects. Many health care practitioners prescribe zolpidem for insomnia, particularly if there is a known cause for it that is not expected to last long. As of 2011, however, there is still some debate as to how effective this drug is for chronic insomnia.
The extent to which zolpidem for insomnia will be effective depends on a variety of factors. One major variable that affects the efficacy of this medication is whether an individual has good sleep maintenance, or the ability to stay asleep after falling asleep. Zolpidem has a short half-life of only 2 to 3 hours, which means that it is broken down and excreted from the body relatively quickly. After a few hours, it is no longer exerting its effects on the brain, so individuals with poor sleep maintenance may find themselves waking up in the middle of the night, unable to get back to sleep.
Individuals with poor sleep maintenance may not find immediate-release zolpidem very effective, although an extended-release version of zolpidem for insomnia is available, which may work better for these people. Patients with additional depression or anxiety issues, or chronic pain, may have changing sleep patterns, which indicates that sleep maintenance can decline in these individuals. This can mean that immediate-release zolpidem for insomnia can occasionally abruptly stop being as effective in a certain segment of the population.
Like the benzodiazepine medications that it is related to, tolerance may sometimes grow to zolpidem over time. Tolerance can have a major impact on the efficacy of zolpidem for insomnia, and is one of the major reasons that this medication is often only given for short periods of time. When this occurs, it can necessitate switching medications or using a higher dose of the original medication.
For most forms of primary insomnia, however, zolpidem is a safe and non-addictive means of inducing sleep. Studies have shown that this medication is usually able to cause people taking it to get to sleep around 30 to 40 minutes earlier than people that had taken a placebo. This drug also tends to reduce the number of times per night that individuals awaken, leading to better quality sleep and a more well-rested feeling in the morning.


By: Sandor Kacso

There is a possibility that Zolpidem may help with an individual's insomnia.