How Do I Settle a Property Insurance Claim?
Property insurance is designed to protect a property owner in case his property is damaged by severe weather, fire, theft or another event. If you're trying to file a claim to fund repairs following such an event, then you first should check your policy to ensure that the damage is covered, after which you should call your insurance provider to explain the situation. Most likely, an adjuster will be sent to your home to determine the extent of the damage. You can usually help him out and speed up the process by taking pictures of the items that need to be repaired or replaced, looking for receipts for the damaged items, and getting estimates from contractors. You also may need to find a place to live while your property is being repaired, and you will want to keep in contact with your insurance agent to find out when you will be compensated for what you have lost and how much the compensation will cover.
The first step is to look at your policy to find out what is covered. You may find that the damage to your property is not covered, or only partially covered, in which case you should consider whether you will bother filing a property insurance claim. Keep in mind that your insurance provider could cancel your policy or increase your premium if you file too many claims, which is why you are encouraged only to make a claim on damage for which you cannot afford to pay. If you decide to make the claim, then it is time to call the insurance company with the details of the damage.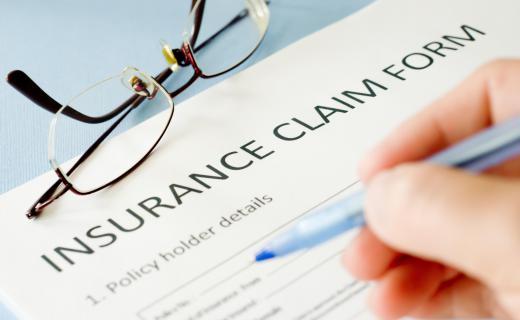 Your insurance agent will likely schedule an adjuster to come look at the property so he can determine the amount of compensation you need to get back what you lost. You can make the process easier by making a list of the damage and taking photographs of each affected area. If you lost any belongings in the property, you should make a list of these, too, along with any receipts or estimated prices that you may be able to come up with. In addition, consider getting price quotes from contractors to determine the likely cost of repairs, and offer the adjuster a copy so he is aware of the probable expenses. This may increase the speed with which you can settle your property insurance claim.
If you cannot live at the home because of the damage, then you likely will need to find a hotel or rental home to live in while the property is being repaired. When you make a property insurance claim and the adjuster sees that the house is too damaged for you to stay in, you may get a check to cover your costs while away from the home. You also might be promised reimbursement if you keep receipts for your lodging and other living expenses. You should stay in touch with your insurance agent after making your property insurance claim so you know when the home will be repaired and when you will get a check to replace your belongings, keeping in mind that this process could take months.
AS FEATURED ON:
AS FEATURED ON:






By: emiliezhang

Property insurance claims can be expedited if the homeowner has given comprehensive information to their insurer.

By: Lisa F. Young

Keeping in contact with the insurance agent is an important aspect of settling a property insurance claim.