How do I Recognize Phishing Scams?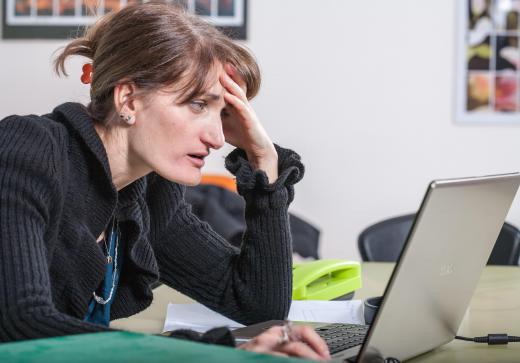 Phishing scams are a type of identity theft that use fake emails to lure victims into revealing personal data. Often designed to look like emails from valid, well-known companies, phishing scams are easy to overlook and can lead to the loss of vital privacy, including exposing addresses, bank information, and personal details to scammers. There are several key components that can help reveal phishing scam emails for their true identity; experts recommend that if there is any doubt about an email's validity, the recipient call the company directly using a phone number not listed in the email to confirm if the message is legitimate.
The first sign that an email may be part of a scam is that it asks for any personal details, or threatens to close an account if details are not provided. Most reputable companies will never ask for personal data to be transmitted through email, partly because of the prevalence of this type of fraud. Any email that asks a customer to reply with address, credit card, or account information is likely to be fake. If it truly seems reputable, experts still recommend calling the company first to verify the email.
Most phishing scams are sent in mass form to thousands of recipients and potential victims. Unlike companies that a person has an account with, phishing scams will usually not include information such as the customers first and last name or account number. An email that starts out with "Dear Sir or Madam," "Dear Customer," or any other type of anonymous salutation may be a scam.
Though they may run by crafty thieves, a great many phishing scams show their falseness by a careful examination of the text. Misspellings, grammatical errors, extra spaces, and odd paragraph formats can all be signs of a scam. Though not all phishing emails will show evidence of poor spelling and grammar, frequent errors in an email from a company are an almost sure sign of a scam. Professional companies tend to have careful editors that would not permit error-ridden emails to go out to customers.
Since phishing scams are sent out to hundreds or thousands of email recipients through the Internet, the online community can be a great source of information about current and recent scams. If an email appears suspicious, try typing the title of the email into a search engine. Some websites are devoted to providing up-to-date information on the latest scams, and can quickly show evidence if a fraudulent email starts making the online rounds.


By: roberto lunerti

Phishing scams are a type of identity theft that use fake emails to lure victims into revealing personal data.