How do I Make a Water Damage Claim?
If your house has suffered water damage for any reason, it may be time to contact your homeowner's insurance company to make a water damage claim. The first step is to make sure that the damage is likely to be covered by your homeowner's insurance, as you should keep in mind that some types of water damage require separate flood insurance. Before you contact your insurance company, you should also make a list of all the items in your home that have been damaged, taking pictures or video of the damage if possible. The final step in a water damage claim is contacting an insurance adjuster to set up a time to meet and review the damage so that it can be fixed as soon as possible.
It is important to go over your homeowner's insurance policy first to find out what types of water damage are usually covered. Most plans cover accidental water damage, which means that you are probably covered if your bathtub overflows, an appliance breaks and leaks water, or a pipe bursts. On the other hand, damage due to neglect or lack of maintenance is not usually covered, and neither is damage caused by floods. If you live in an area prone to flooding, you are usually required to get flood insurance in addition to the typical homeowner's coverage.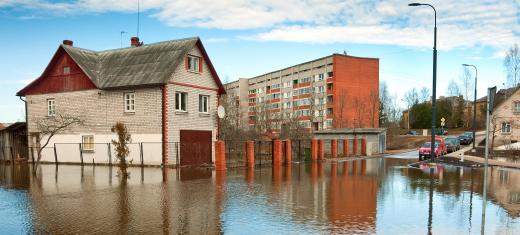 The next step in the water damage claim process is to make a list of everything that has been damaged by the water. This includes carpeting, carpet padding, furniture, and personal belongings. You should then record the approximate cost to replace each item. Taking pictures or even a video showing all the damage is helpful when reporting a claim, as well. Depending on what your policy states, in some cases you can begin getting repairs or replacement items before your water damage claim is complete, as long as you keep the receipts to show the adjuster.
Finally, you need to contact your insurance company to speak to an adjuster. You will need to have certain information on-hand before you call, such as your policy number, a phone number where you can be contacted, and an accurate description of what occurred. If you have already gotten price estimates from contractors who can repair the damage, you should let the adjuster know this information. The adjuster will then likely set up an appointment to come look at the damage, after which your water damage claim will hopefully be approved so that repairs can begin.
AS FEATURED ON:
AS FEATURED ON:






By: Jaroslavs Filsh

Before making a water damage claim, note that some types of damage are only covered by certain flood policies.

By: annavee

Buying a property in an area prone to flooding may necessitate purchasing flood insurance.