How Do I Make a Facial Mask?
Facial masks are a great way to add moisture to the skin on your face, help prevent acne or remove oil. There are a variety of facial masks available for purchase from different sources, but you also can make a facial mask for yourself. Not only are these masks usually less expensive, they also use ingredients that you might already have on hand — and they are natural. To make a facial mask, you might combine ingredients such as olive oil, egg whites, egg yolks, oatmeal and honey, as well as lemon juice, coffee grounds or plain yogurt. Your skin type and desired results help determine which ingredients you use.
To make a facial mask for oily skin, there are a ingredients that can be combined to remove oil and tighten pores. Some people find that honey's antibacterial properties help remove acne-causing bacteria from their skin, but others find that the moisturizing properties cause excess oil. Oatmeal mixed with a small amount of honey is one type of facial mask that might be a good option. Whipped egg whites, oatmeal and even milk of magnesia are all good ingredients if you would like to make your own facial mask for oily skin.
If you have dry skin, you can benefit from using certain ingredients. Honey is a very good ingredient to use if you would like to make a facial mask for dry skin. It can be used on its own or combined with olive oil for added benefit. Egg yolks, plain olive oil and sour cream are other good ingredients to use on dry skin. You should avoid any type of natural clay when making facial masks for dry skin, because this can dry your skin even further.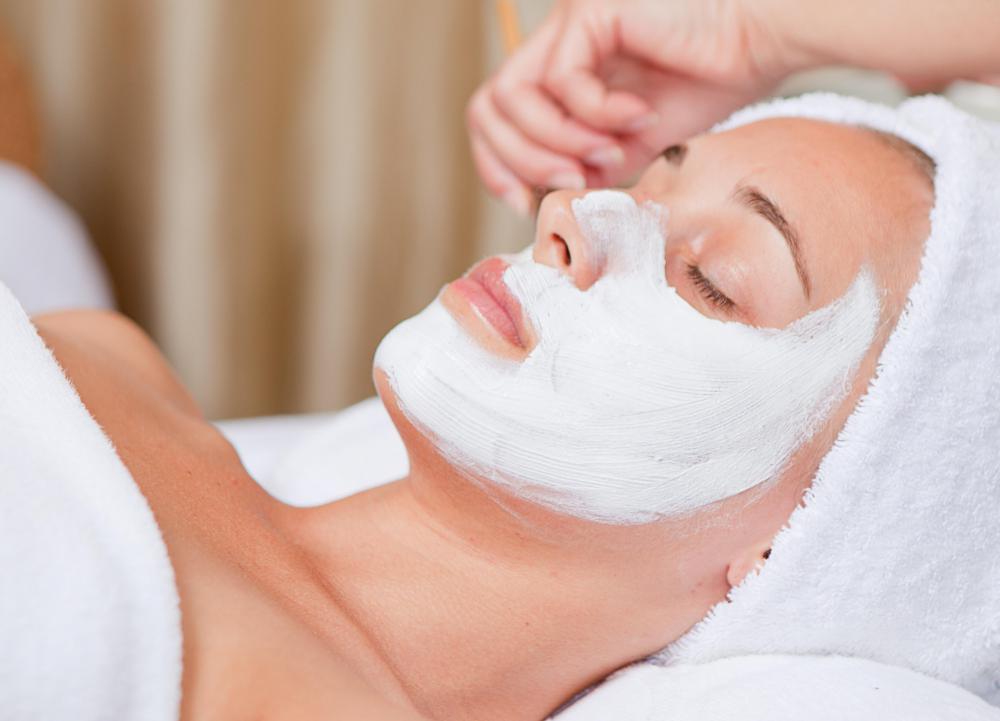 Certain ingredients might be added to homemade facial masks to create an exfoliating mask. Salt, ground oatmeal, cooled coffee grounds or sugar might be added to exfoliate the skin. When using natural exfoliating ingredients to make a facial mask, avoid the eye area, and do not scrub too vigorously.
Other natural ingredients might be used as astringents and toners in conjunction with facial masks. Plain unflavored and unsweetened yogurt acts as a good toner. In addition, lemon juice can be used to remove spots from your face and even out skin tone. The juice also can tighten pores, which helps prevent acne and gives your face a nice, uniform appearance. It is best to use lemon juice in moderation if you have dry skin.
Plain yogurt can be used in a facial mask.

Facial masks may help prevent acne.

Exfoliating masks scrub away dead skin cells.

Some spas use natural products like honey, oatmeal, yogurt, and bananas in their facial masks.

Facials can be applied to the skin more evenly using a brush.