How Do I Get the Best Marriage Counseling?
The best marriage counseling for you can depend on the issues you are having in your relationship, as well as something as simple as the personality of the person offering the counseling and of the individuals receiving it. It is important in marriage counseling for both partners to feel comfortable speaking to the marriage counselor; if either one feels uncomfortable, or like he or she is being judged, it is best to keep looking for someone else. Some marriage counselors also specialize in certain areas; for instance, family counseling with kids, or sexual therapy for couples having issues in that area of their relationship. For the best marriage counseling, it is a good idea to look for a counselor with experience in a particular field.
In general, marriage counseling normally occurs after a couple has already been married for a few years and is having some communication issues, or persistent fights that need to be resolved. Some couples, however, choose to get some marriage counseling before they get married so they can learn some tips for dealing with arguments and communicating with each other. In this case, the best marriage counseling might come from the individual performing the ceremony, particularly if it is a member of the clergy that the couple is familiar with. Otherwise, a marriage counselor may be willing to meet and discuss these things a few times.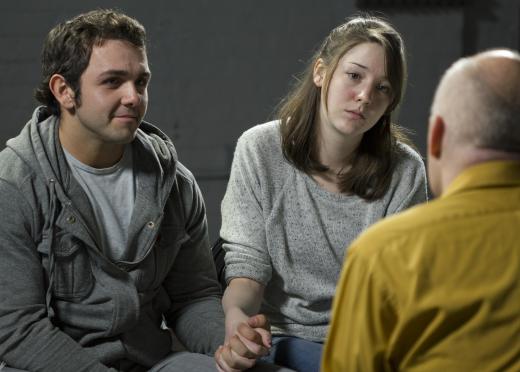 In other cases, getting the best marriage counseling might require meeting with the counselor once for a type of trial run, to see if you both think he or she will be helpful, or has the type of personality you want to work with. Marriage counseling will generally take place with both members of the couple present at all times, so it is important that both people are comfortable sharing their feelings and opening up to this individual.
Aside from making sure personalities are complementary, consider the type of issues you want to resolve and the goals you have for the marriage counseling. The best marriage counseling will be flexible enough to help you to address the specific issues bothering you as a couple, and not just offer general advice. In certain scenarios, such as if a couple has particular issues with family members, monetary issues, sexual problems, or others, it may be possible to find a counselor who deals specifically with these issues, or who at least has experience with them. Couples contemplating divorce will generally also want to seek a counselor with experience in this area.
AS FEATURED ON:
AS FEATURED ON:






By: Burlingham

A marriage counselor tries to help strengthen a couple's relationship.

By: Tatyana Gladskih

Counselors may be able to help with communication problems.

By: olly

An individual who is emotionally detached from his or her spouse may choose to seek marriage counseling.

By: Igor Mojzes

Couples who have trouble talking about their problems with each other may find help working with a marriage counselor.

By: Rob

Therapists at community-based counseling centers often help people cope with marital and family problems.

By: Sandor Kacso

Some marriage counselors specialize in sexual therapy.

By: Hunor Kristo

Marriage counseling can help couples regain a sense of intimacy in the relationship.