How do I get Surgical Tech Training?
There are four items required to get surgical tech training: find an accredited school, meet the admissions qualifications, pay the tuition, and complete the course work. Surgical tech training is available from a wide range of community and career colleges. Many people choose to become a surgical technician because it allows them to combine an interest in medicine with technical skills.
The surgical technician is responsible for ensuring the correct tools, equipment, and supplies are in place before surgery begins. During the surgical procedure, they provide assistance by preparing the surgical instruments and managing the equipment. A surgical tech training program is a combination of operating room nursing and medical equipment training.
The first step to complete when looking for surgical tech training is to find an accredited school. Accreditation is granted by an independent agency. The agency is responsible for reviewing the schools academic and administrative processes to ensure they are equitable and consistent. Courses completed at an accredited school can be transferred to other institutions and are accepted by professional associations. In addition, only accredited schools can offer access to government student aid programs.
The admissions requirements for surgical tech training usually include high school credits in biology, chemistry, math, English, and technology. This career is expected to experience above-average growth in the next five to ten years. As a result, high marks may be necessary to qualify for admission into the training program.
Tuition for surgical tech training ranges from $5,000 to $15,000 US Dollars (USD) per year. Look for scholarships, grants or bursaries to help reduce the total cost of this program. Student loans are available from a wide range of financial institutions, with lending criteria based on a combination of earning potential and personal credit.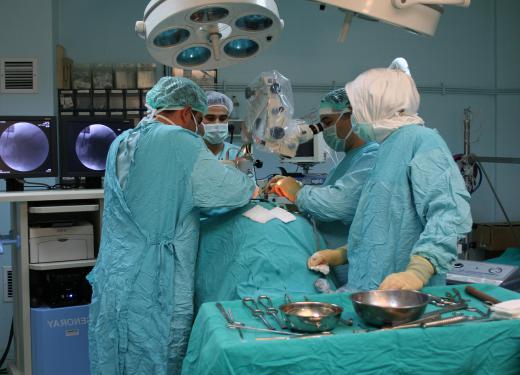 The surgical tech training program is typically one to two years in length. The first year of the program offers courses in human anatomy, surgical instruments, biology, sterilization techniques, and basic chemistry. In the second year, the courses become more specialized, with courses focused on using complex equipment, such as a ventilator or dialysis machine.
Upon completion of a surgical tech training program, graduates can find employment opportunities in hospitals and outpatient clinics, where surgery is completed. People who report the highest satisfaction with this career are detail-oriented, enjoy working as a team, and are not squeamish. The technologist is often working during a complex surgery, and must be able to accept the slight of blood and other items during their workday.
AS FEATURED ON:
AS FEATURED ON:






By: Andrey Kiselev

A surgical tech manages equipment during surgical procedures.

By: fivepointsix

A surgical tech makes sure all necessary tools are in place before an operation.

By: muratolmez

Prospective surgical technicians should find a school accredited by an independent agency that monitors educational standards.