How Do I Get Doctor Work Experience?
Physicians gain doctor work experience through clinical internships and residency programs. Attaining such work experience is usually required of medical students before they can graduate or practice medicine on their own. Medical students typically begin clinical internships in the final two years of their studies. Doctor work experience through clinical internships involves students rotating through a variety of medical fields under the supervision of more experienced physicians. Residency programs are postgraduate positions that allow doctors to gain career experience in their chosen field. This form of on-the-job training lasts anywhere from two to six years depending on the doctor's chosen practice.
Clinical internships require students to utilize the skills they are taught in the classroom in a clinical setting. Medical school faculty assign students to clinics where students gain insight into patient care, medical facility operations, and teamwork. This form of doctor work experience requires students to diagnose and treat patients under the direction of doctors and clinic personnel.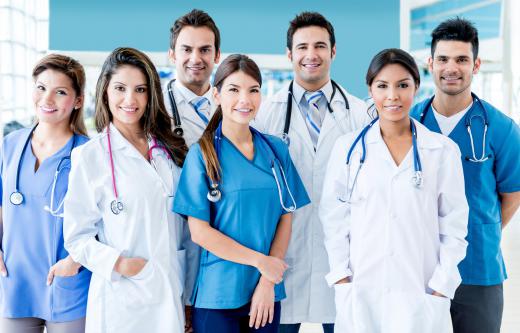 During these clinical rotations, students are graded by supervising physicians. They must show knowledge of human anatomy and physiology, use proper medical terminology and methods when treating patients, perform basic medical procedures with accuracy and skill, and recognize or diagnose problems that may stem from the patient's living situation or lifestyle. Doctors also evaluate students based on aspects of professionalism such as honesty, integrity, respect for others, and responsibility. These evaluations appear on students' permanent records and may also be requested by residency programs students apply to.
Residency programs are the most competitive forms of doctor work experience. Thousands of medical students from all over the world apply for such positions in hopes of gaining job experience in their chosen field of medicine. Applications can be sent to the individual programs or to centralized residency matching programs. Most application packages for such doctor work experience programs contain personal statement, letters of recommendation, and student transcripts. Residency program directors review such applications and then invite graduates for interviews. After all interviews are conducted, programs extend invitations to desired candidates.
Residency programs expose graduates to the rigors of life as a doctor while providing on-the-job experience tailored to the career objectives of trainees. During the first year, residents learn time management skills and hospital operations in addition to routine medical procedures. In future years, residents may oversee the clinical rotations of medical students, determine patient treatments, and perform more complex medical procedures on their own.
AS FEATURED ON:
AS FEATURED ON:






By: Andres Rodriguez

Clinical internships and residency programs are the primary ways to gain early work experience as a doctor.