How do I get a Teaching Job?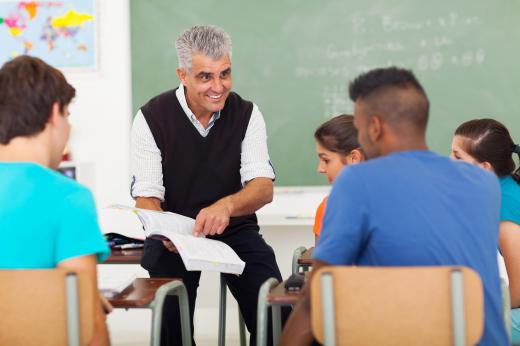 You may start your quest for a teaching job by learning what prospective employers are likely to require of you. Usually, this will mean securing education in a related field and meeting experience or training requirements. Depending on the type of teaching job you want, you may also have to take standardized tests, earn certification, and submit to background checks. When you feel that you meet the requirements for becoming a teacher, you may then seek a job by submitting applications and interviewing for positions.
Since there are so many different types of teaching jobs, a good starting point for landing one is learning the requirements of the job that interests you. If you want to become an elementary school teacher, you may face different requirements than if you chose to become a high school teacher or college professor. The same holds true if you want to be a dance or piano teacher instead of teaching academic subjects. Making a list of the usual requirements for the job you want may help you start off on the right foot.
You will typically need a good deal of education to get a teaching job. For example, if you want to teach elementary school, high school, or college, you will typically need a college degree. Different schools may have varied degree requirements, but grade schools often accept candidates who hold bachelor's or master's degree. Colleges usually prefer job candidates who have earned doctoral degrees instead.
If you want to teach specific disciplines, such as a piano, music, or karate, you may sometimes need a degree. For example, if you want to teach these subjects through a traditional school, you may need a related degree. If you will teach at a studio or school that prizes talent over credentials, however, a degree may not prove as important.
In addition to education, you may have to meet a range of other requirements to secure a teaching job. Depending on the type of teacher you want to become, you may have to take standardized tests, participate in certification programs, and gain hands-on experience teaching students. You may also have to submit to background and child abuse checks as part of the process of becoming a teacher.
Once you have prepared to become a teacher, you may begin applying for jobs. To have the best chance of securing a position, you may do well to carefully follow each employer's instructions for applying. Showing up for interviews on time and being prepared to demonstrate why you are the best candidate for the job may improve your chances of being hired as well.


By: michaeljung

A teacher typically has a college degree.

By: michaeljung

Skills like foreign language fluency may be useful in securing a teaching job.