How Do I Get a PhD in Organizational Leadership?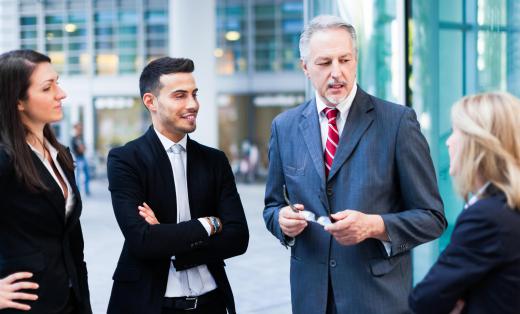 A doctor of philosophy (PhD) degree in organizational leadership can be worked toward after you have fulfilled the requirements for admission into a program. Normal admissions requirements include a master's degree, research interests in the subject and the desire and motivation to pursue a doctoral degree. A decision needs to be made about the type of PhD in organizational leadership that you want to pursue, because there are different program formats and concentrations available. After you are enrolled, it is necessary to take the coursework and complete a dissertation, which is a long paper based on original research.
Obtaining a master's degree is necessary to be accepted into a doctoral program in organizational leadership. Many students who move into organizational studies have master's degrees in the areas of human resources, business management, or finance; degrees from other fields are also often accepted. A master's degree generally requires two to three years of study after you earn an undergraduate degree in a similar subject, and many doctoral programs will not accept you unless you have a grade point average (GPA) of a certain number or higher in your master's studies.
To be admitted into a program for a PhD in organizational leadership, it is necessary to have research interests in a similar area. This is accomplished by doing research during your master's program in a subject that could be translated into the field of organizational leadership. Doing research can lead to close relationships with professors, which is helpful because recommendations from professors are required to be admitted into a PhD program.
There are different course formats to receive a PhD in organizational leadership, such as online courses, on-campus classes and a blended combination of both. When determining how best to obtain a PhD in organizational leadership, you should look into the options that are available. If you are working and would prefer to do more study in your free time, then online courses might suit you better than on-campus classes, but if you prefer the one-on-one contact with professors, then taking classes on campus might be a better option.
Concentrations in organizational leadership vary but include information systems and organizational change. After you have been accepted to begin work on a PhD in organizational development, you will begin coursework in the subject. A PhD generally takes three to five years to complete, with at least one year focusing on the dissertation paper. This paper is the culmination of your PhD and involves doing original research on a subject of your choosing that relates to organizational leadership.


By: Minerva Studio

Obtaining a master's degree is requirement for entry into an organizational leadership doctoral program.