How Do I Get a Doctor of Technology Degree?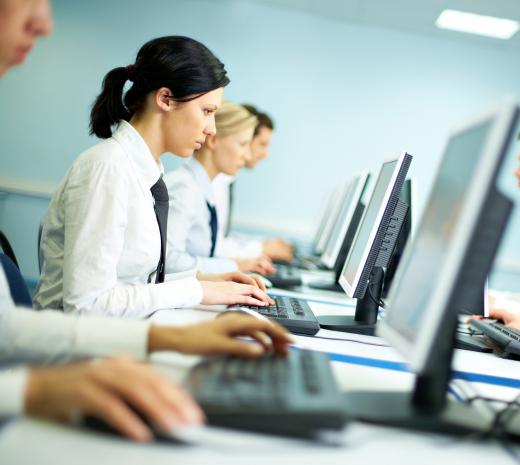 Generally, you can get a doctor of technology degree after completing an undergraduate and graduate degree in the same or similar field. Identifying local academic institutions that offer doctoral degrees in technology is generally an important step to obtaining the degree. Once potential institutions are identified, you can complete the application and enrollment process. The next step is usually completing the assigned coursework that is applicable to earning the degree. Without enrolling in an academic program, some academic institutions award an honorary degree for your significant contributions to the technology industry.
Typically, you will need to fulfill certain academic requirements before receiving a doctor of technology degree. Completing an undergraduate degree is usually the first step to fulfilling this academic requirement. If you already have an undergraduate degree, you may need to also complete a master's program in technology or a related field.
After completing the prerequisite academic credentials, your next step could be to identify institutions that offer doctoral degrees in technology. A recommendation from academic advisers at previous degree programs is one way to identify these institutions. Additionally, you could research this information on your own through academic websites and by requesting program information.
Many academic institutions have set criteria that all doctoral candidates must follow upon acceptance into the program. Some may require that you demonstrate levels of competency through research projects and internships to receive a doctor of technology degree. Others might expect you to attend seminars and instructional classes. Along with these requirements, you usually have to complete a dissertation, which is a paper that defends your research position.
The field of study and name for a doctor of technology degree might vary among countries. Topics usually center on information technology solutions and improvements, as well as the societal impact. Most programs cover advanced subjects that incorporate research and development of technological systems in the workplace.
Some countries such as South Africa award a D. Tech (doctor of technology) degree in areas such as biomedics. Commonly awarded in the U.S., the doctor of industrial technology might cover the educational aspects of technology. Similarly, the doctor of information technology offered in the U.S. and Australia is advanced studies in technological development and solutions.
Even without completing an academic degree program, it is still possible to receive an honorary doctor of technology degree. Various institutions award this type of degree to individuals who fulfill certain criteria and demonstrate exceptional accomplishments in the field. Typically, an honorary degree is for those who make significant contributions to the technology industry.
The types of contributions may vary and depend on the area that is influenced. Innovative contributions usually relate to developing new technologies that move the industry forward. Another area of contribution is critical analysis and the design of technology prototypes that advance scientific research.


By: pressmaster

Completing an undergraduate and graduate degree in a similar field is the first step to obtaining a doctor of technology degree.