How do I Find Pipefitter Work?
A pipefitter is a plumbing professional who fits and connects two adjoining pipes during construction or when repairing pipes in homes, commercial settings, underground piping systems, and sewer systems. For those looking to find pipefitter work, it is important to acquire all necessary skills and to become comfortable with all tools of the trade.
To find pipefitter work, you must first get all accreditations, certificates, or degrees necessary in the city or county where the work will be done. Different locations have different regulations, so it's best to check with a local government office for guidelines. For those who have little or no experience in the field, it may be possible to find pipefitter work with an experienced plumber or pipefitter and work as an apprentice. After an apprenticeship, it may be possible to become licensed in pipefitting.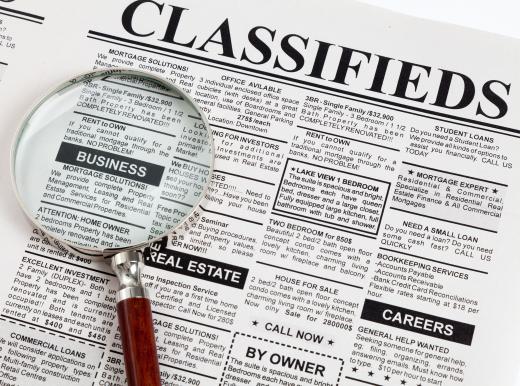 Another useful way to find pipefitter work is to check all local classifieds and career publications. These will list employers who may be looking for pipefitters, as well as give information on the experience level they are looking for and salary information. Most ads also list a phone number or email address where the employer can be reached.
Before contacting a potential employer, it is important to have an up-to-date resume with all related work listed. For those who want to find pipefitter work, listing any plumbing, pipefitting, and construction-related jobs would be preferable; with unrelated positions listed toward the bottom.
One of the most popular ways of finding pipefitter work is checking all online job boards and classifieds. These sites often allow the job searcher to specify the location in which he wishes to work, the type of work he wants, and the industry the work falls under. This helps to narrow down the job search and target only the employers who are looking for pipefitters.
Perhaps the easiest way to find pipefitter work, for those who know someone in the industry, is to work under someone you know or someone who shares a mutual friend. Word of mouth and referrals are often the fastest and most efficient way of finding employment. In this type of situation it is very important to give correct information to the person giving the referral Lying on a resume or giving a friend false information not only reflects poorly on the employee but on the referrer as well. For this reason, it is important to be honest when giving both employment history and experience level.
AS FEATURED ON:
AS FEATURED ON:






By: Feng Yu

Many jobs are often listed in the local newspaper classifieds.

By: Roman Milert

Pipefitters, or steamfitters, are responsible for installing piping systems.