How do I File a Brain Injury Lawsuit?
When you want to file a brain injury lawsuit, you may start out by determining whether or not you have a winnable case. Then, you may work on finding a lawyer who has experience with handling your type of case. To file a lawsuit, you will usually need to gather proof of your injury as well. For example, you may use medical records, receipts and witness statements to help prove your case.
One of the first steps in filing a brain injury lawsuit is determining whether or not you have a case. To win a brain injury case in most jurisdictions, your injury must typically be the result of negligence on the part of another party or the result of intentional harm. For example, if you are treated by a doctor and his incompetent care causes you to suffer a brain injury, you may have a case for suing him. If, on the other hand, he provided an adequate level of care but you were injured anyway, you will probably be less likely to win your lawsuit.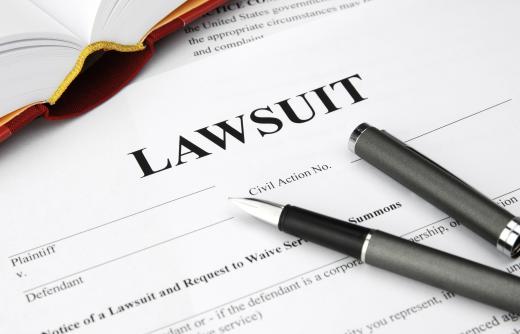 Once you have determined that you do have a case for filing a brain injury lawsuit, you may consider hiring a lawyer to pursue the case on your behalf. While you may have the right to sue another party as a pro se defendant, it is probably not in your best interest to do so. A personal injury lawyer will usually have knowledge and experience with these types of cases that could heighten your chances of winning. Likewise, a personal injury lawyer may have important contacts, such as medical experts, who could help you prove your case.
Since the personal injury lawyer you choose may have a good deal of influence over whether or not you win your case, you may improve your chances of winning by taking care with deciding whom to hire. Typically, this means making sure the lawyer you are considering is licensed to practice in your jurisdiction and has significant experience with personal injury lawsuits. If he has experience handling brain injury cases, that may prove particularly helpful as you pursue your case. Additionally, you may do well to choose a lawyer who has a good reputation for acting ethically and winning or obtaining satisfactory settlements in his cases.
You will usually need some type of proof to file and win a brain injury lawsuit as well. For example, medical records that pertain to your health before and after the injury may help. Likewise, medical records that describe the period in which you were injured are important. If there were witness to the events that caused your brain injury, written statements from them also may prove helpful. Additionally, copies of medical bills and receipts and proof of other financial losses you've suffered may help you win your case.
AS FEATURED ON:
AS FEATURED ON:






By: eccolo

Some lawyers specialize in medical malpractice and personal injury lawsuits.

By: Tyler Olson

Brain damage can be a potentially devastating medical issue.