How Do I Choose the Best Woodworking Kit?
The monetary investment in tools and other equipment when furnishing a woodworking shop can be quite high, but purchasing a woodworking kit can cut down on some of that cost while still providing you with the necessary equipment to get started. When choosing a woodworking kit, first consider what tools and equipment you need as well as how much you are willing to spend. While an inexpensive kit may give you all the tools you need at the right price, those tools may not be of the highest quality and may need replacing sooner than higher quality tools will.
Sometimes a woodworking kit is sold as a package that will help you complete a specific project. The kit may even include plans for completing that project, and only the tools necessary will be included. The price of such kits can vary significantly depending on the size and complexity of the project itself as well as the quality of the tools. Whenever possible, try to buy a woodworking kit with tools made from a reputable manufacturer. This will help ensure higher quality, and it may also improve the chances of the inclusion of a warranty program. Some tool manufacturers even offer lifetime warranties, so be sure to do a bit of research to find out if the kit you are considering has such offers.
Two general types of kits exist: hand tool kits and power tool kits. Hand tools are unpowered and are controlled by applying force manually; these are best for making intricate cuts, measurements, and other alterations. Power tools are most useful for making larger, rougher cuts, though some are suitable for more intricate cuts. A woodworking kit that includes a power tool of some sort will generally only include tools that pertain to the use of that specific power tool; a circular saw, for example, may come with a level and a tape measure, though it is unlikely, for example, to include a set of chisels.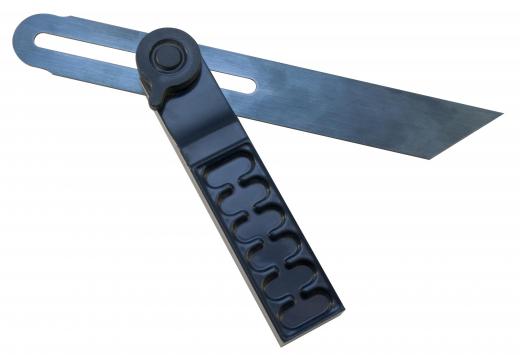 Sometimes a woodworking kit will include organizational items such as bins, shelves, or even the workbench itself. When choosing a kit that includes a workbench, it is important to carefully examine both the structure of the bench and the materials from which it is made. The workbench is perhaps the most important piece of equipment a woodworker will use, and it must be sturdy, well built, and accommodating to the work being done.
AS FEATURED ON:
AS FEATURED ON:






By: Negaro Imaging

A power sander, which is used for woodworking.

By: Christopher Dodge

A woodworking kit might include a bevel gauge, which is used most often to duplicate and measure angles.

By: Dmitry Naumov

When woodworking, a miter saw is ideal for making precise crosscuts.