How Do I Choose the Best Wedge Heels?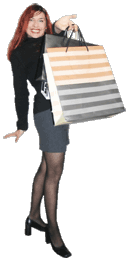 Choosing wedge heels is usually a matter of taste, budget, and sizing options in your area. There are a wide range of style available, including sandals, boots, and basic heels for business or evening wear. There is no right or wrong way to find wedge heels, as long as they meet your needs and fall within your price range.
The first factor you should consider when picking out wedge heels is price. It's a good idea to make out a budget before getting started, since this will allow you to narrow down options before you even set foot inside a store. This prevents you from spending too much time searching through options you can't afford to buy. Once you have come up with a price you can afford to pay for the shoes, look through options that fit your budget.
Another important aspect of wedge heels is the comfort level you need from them. Like conventional heels, some are higher than others. Lower heels are usually more comfortable, so they may be more suited to your lifestyle if you will be running after kids all day, or doing a lot of walking. Some wedge heels are even cushioned at the soles to provide even more comfort.
Style is also something you should keep in mind while shopping for wedge heels. There are wedge sandal heels, boots, pumps, and other options you can choose from. When picking a particular style, it's a good idea to consider where and for what purpose you'll be wearing them. If you need them for work or other more formal situations, a closed toe and darker colors are probably best. For date nights or more casual dresses, jeans, or skirts, you can go with just about anything. The most important thing is choosing options that appeal to you and your personal tastes.
Wedges are suitable for those with any size foot. As with traditional heels, they elongate the legs and can make shorter individuals appear taller. They can also help shorten the appearance of the foot, so those with larger feet can wear these shoes more confidently.
Although there are plenty of online sites carrying shoes, it is often better to shop in a brick and mortar store for heels. This way you can try them on and find a perfect fit, so you won't have to deal with the hassle of sending them back to the store. You'll also get the benefit of seeing the texture, color, and materials up close.


Woman shopping