How Do I Choose the Best Waterproof Concealer?
Choosing a waterproof concealer that is well-suited for your needs may take some effort. It is important to choose a color that blends with your natural skin tone. If you intend to use the makeup on an area other than your face, it is a good idea to look for a body concealer rather than a facial concealer. Finding a concealer that offers sun protection may be wise as well.
There are many types of waterproof concealer, and you can narrow down your search by determining the type that will best suit your needs. Some are full-body concealers meant to hide stretch marks and scars on parts of the body other than the face. Other types of concealer have formulas designed to cover acne, dark circles beneath the eyes, or facial blemishes. Waterproof concealers meant to cover tattoos are available as well.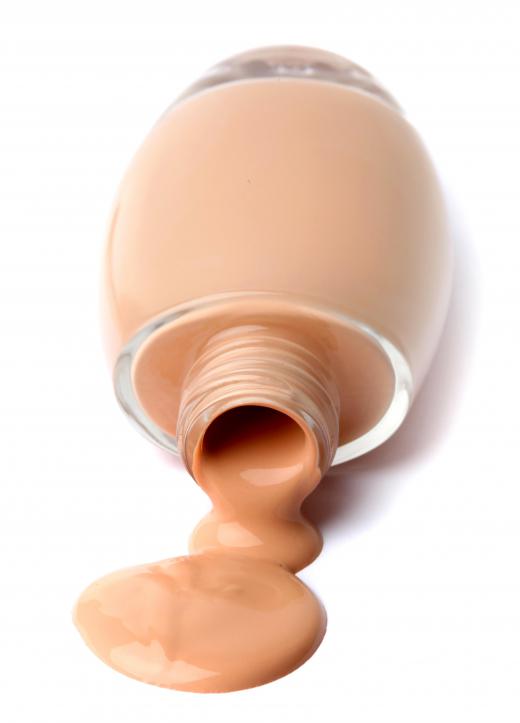 Determining whether a product is a full-body or facial waterproof concealer is important for a number of reasons. Body concealer stays in place better than facial concealer, which prevents it from rubbing off on clothes, furniture, or beach towels. The formulas used for body concealer also will allow you to smoothly cover a large area without using much of the product. If you want to use the concealer on your body, you will save money by choosing a body concealer because you may need to use a considerable amount of facial concealer to cover a large area of the body.
Color is one of the most significant choices when choosing a waterproof concealer. To get the best results, the color of the concealer must blend with your natural skin tone, and it may take some effort to find makeup in precisely the right shade. If possible, try the concealer on a small area on your neck, face, or part of the body you wish to cover. You may also want to look for concealer in yellow or orange tones because they may provide a more natural look than pink-toned concealers.
If you want a waterproof concealer for swimming or other outdoor activities, there are a few special considerations. When spending time outdoors, you should keep in mind that tanning will change your skin tone, and you will likely need to purchase a different shade of concealer. Some concealers may include some sun protection as well, but it is a good idea to use sunblock in addition to concealer if you want to protect your skin and prevent tanning. If you want to use the product while swimming, you should make sure that the product label says waterproof rather than water-resistant or smudge-proof. Finding a long-acting concealer that will stay in place all day is also a good idea if you will be outside with no chance to reapply the makeup.
AS FEATURED ON:
AS FEATURED ON:






By: cedrov

Waterproof concealer.

By: fotografiche.eu

Failing to wear waterproof concealer when it rains – or when at the beach – can cause the makeup to smudge and wear off.