How do I Choose the Best Veterinary Assistant Courses?
A veterinary assistant is often a skilled, though not officially licensed, member of the veterinary profession. A combination medical assistant and secretary, a veterinary assistant may be a vital and valued part of any veterinary practice. Taking relevant veterinary assistant courses through a university, junior college, or even community organizations can help prepare a veterinary assistant for the rough-and-tumble world of animal care.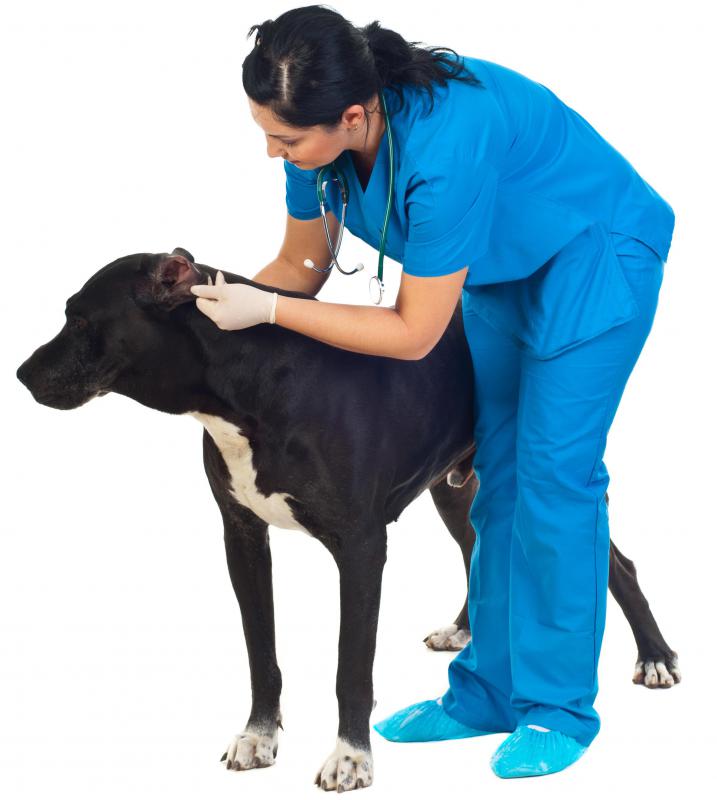 Many vet assistants are determined to work toward a certification as a veterinary tech or becoming licensed as a veterinarian. Therefore, some of the best veterinary assistant courses will help qualify for an advanced degree in animal medicine. Courses in animal anatomy, parasitology, epidemiology, and pharmacology can all be useful to a training veterinary assistant. Not only will these classes help in the daily practice of a vet's office, they can be used to fulfill requirements toward an eventual degree.
Not all veterinary assistant courses require a classroom or university setting, however. One of the best ways to train as a competent veterinary assistant is to train and care for animals. Whether taking pets to obedience classes, training dogs to become assistance animals, or fostering homeless pets through a rescue agency, hands-on experience with animal behavior can be invaluable. Check with pet stores and community animal organizations for available courses in training and behavior.
An assistant with a head for organization is a valuable thing, particularly in the frequently chaotic world of animal medicine. Some veterinary assistant courses have little to do with animals, but can be greatly beneficial to an aspiring student and a veterinary practice. Consider taking classes in accounting, bookkeeping, records, and management. Improving the efficiency and performance of a veterinary office or animal hospital can make life easier for everyone involved, from the animal doctors to the nervous owners.
Taking veterinary assistant courses can also be greatly assisted by internships that allow practical experience. Finding a veterinarian who enjoys training the next generation can provide insider experience impossible to get in a classroom. Some vets use assistants or interns to mind the front office and fill out paperwork, but others will allow hands-on work under careful supervision. Upon taking an internship or assistant job, be certain to ask the veterinarian if they will provide opportunities to learn about animal doctoring. Knowing that an intern is passionate about learning the trade may lead a vet to offer a variety of useful and informative training experiences.
By: Magalice

A vet assistant vaccinating a puppy.

By: Gabriel Blaj

Veterinary assistants usually have not received any certification.