How Do I Choose the Best Underwear?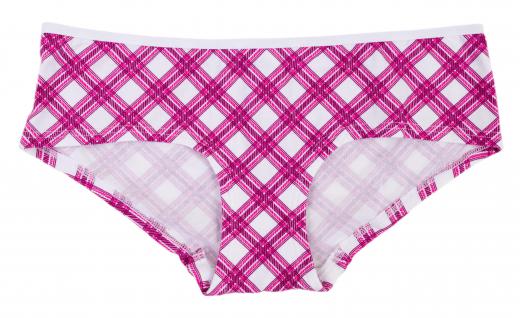 Choosing the best underwear is a matter of your own personal preferences and style, although comfort and price are factors nearly any consumer should consider. You should also choose options which are made to go well with whatever clothing you are wearing on a particular day. It's good to have a wide variety of underwear for different occasions. For instance, you may want different pairs for tighter-fitting clothes and others for sleeping or working out.
One quality to consider when choosing the best underwear is fit and comfort. Make sure to choose undergarments which fit properly without bunching or shifting when you move. To ensure that you are choosing options with a proper fit, be sure to know your own measurements before shopping so you can accurately choose options that will fit perfectly. Ill-fitting undergarments are uncomfortable and may ride up. If you unsure of how to measure yourself, ask a sales associate for assistance.
When choosing the best underwear, you should also take price and style into account. Cheap undergarments are widely available, usually relatively durable, and comfortable. They are also often lacking in style, so if you want items with certain cuts or in specific colors, you may have to go to a store specializing in undergarments. To save money, you can go when there are sales or buy items from the previous season.
There is really no right or wrong way of choosing the best underwear, as it is primarily a matter of personal preference. You may choose to wear styles which most flatter your clothing to prevent panty lines, or you may choose to go with items chosen solely for comfort. It is a good idea to wear undergarments made from soft and absorbent materials, such as cotton. This is especially important for women to consider in order to prevent vaginal infections.
It is a good idea to avoid wearing underwear made of synthetic materials, as these can prevent moisture absorption and lead to infections or skin irritation. Thong underwear is also not recommended for daily use because of the risk of infection. It is also important to avoid underwear which does not offer enough support, and items which are too tight, as this can lead to stomach pain and other problems.


By: Ruslan Kudrin

Underwear choice is a matter of personal preference and style.

By: vladimirfloyd

Someone may want to take their entire wardrobe into account when selecting underwear.

By: Marin Conic

Cotton underwear is often more comfortable than those made of synthetic materials.